The graph of the mobile app industry has been pointing upwards for more than a decade now. Without a doubt, smartphones are to blame for the momentous growth this industry has witnessed.
If you imagine, a good smartphone loaded with essential apps is all you need to get your day going. With the changing preferences of the customers, online shopping has been greatly influenced by mobile apps too.
The change in the trends calls for e-commerce website owners to adapt to trends and build a mobile app if they haven't already. Regardless of the how great an experience your website offers, you are losing a huge chunk of audience that prefers smartphones over desktops.
If you are worried about the cost of building an app, you can always create an app from your website. This is a much affordable alternative to custom apps and involves lesser time too.
In this post, we will discuss the emerging m-commerce trends this year, and the ways that you can be a part of it. Let's get started:
Using apps for shopping
The ease of access to buy products instantly has made shopping on mobile apps popular. Online shoppers have changed their preferences from shopping on websites to mobile apps.
Web browsers certainly work well when customers are looking for a new product but mobile apps are proven to convert more orders. If you have a base of existing and loyal customers, you have all the more reason to build mobile apps. Repeated shopping often takes place through mobile apps because of the ease of access.
Some e-commerce store owners still believe than responsive mobile websites are a good alternative to mobile apps. However, studies prove that a customer is likely to spend 80 percent of his/her time on a mobile app compared to 10 percent on a responsive website.
If you already have WooCommerce website, you can simply use AppMySite's WooCommerce app builder to create a fully blown mobile app in a code-free environment.
Increased sales from smartphones
Customers no longer have the patience to sit down at their desktop for extended duration, especially to shop. Smartphones have become their go to device for anything and everything they need, including shopping.
The fact that mobile apps can be accessed at any time of the day and at any location, appeals to the customers the most. This is reason why conversion rate on a mobile app is much higher compared to a website.
Given the fact that mobile apps can be used from not just smartphones but also tablets, makes them more accessible to the customers compared to websites.
Besides making it extremely easy for customers to access your products, mobile apps ease down the process of marketing for the businesses as well. Push notifications are a great tool to encourage customers to instantly buy from you, especially during promotions.
Although it ideal that mobile apps are optimized to work on a big screen of a tablet and a small screen of a smartphone, there are chances that most customers will be more inclined to buying from the later this year.
Easy ordering preferences
Customers in today's world look forward to seamless shopping experience. A lot of mobile apps will be seen easing off the process of checking out this year to offer a smoother shopping experience to the customer.
This would involves saving customer's time from entering minute detail during the checkout process, every single time. If mobile apps can optimize and simplify this process, they will see a significant decrease in the cart abandonment rate.
This feature is, however, impossible to achieve on a responsive website which is why the most customers end up abandoning their cart completely. Comparatively, mobile apps can achieve a much higher conversion rate because of one-click ordering convenience.
Even though both responsive websites and mobile apps are run on the same device, the conversion rate is higher in mobile apps. To a lot of businesses, giving customers the option to save their card details on their app may not seem very important. Considering low patience and less time are a deadly combination, you don't want to give customers any reason to abandon their cart.
A lot of business will be seen investing in mobile apps to achieve one-click ordering this year to follow this trend.
Featuring voice assistance
Virtual voice assistants are not limited to searching the internet for the latest news anymore. This year will witness voice assistance as a part of shopping apps for an effortless shopping experience to the customers.
The idea of shopping using this feature will not be restricted to simply searching for products. Customers will not only look for products using this tool but will also be able to add products to cart, search categories and more.
In a study by Adobe that included 400 business decision makers, concluded that more than 90 percent of them are willing to take the plunge of investing in this feature.
This technology is likely to be embraced by brands that sell digital products before roping in businesses of other industries.
This trend may be a huge leap for smaller businesses but as bigger companies start implementing it as a part of their mobile app, it will be easier to adapt to this trend in the upcoming year.
Deploying chatbots
Most successful businesses understand the power of a good customer support system. Chatbots were introduced years ago to empower online businesses to offer basic customer assistance around the clock.
Even though this technology is not new to us, it has still not found its way to most businesses throughout the world. This year will be different for this technology.
With the launch of new features in this technology, more and more online businesses are welcoming it as a part of their customer support. While chatbots are already popular amongst e-commerce websites, this year they will make their way in m-commerce too.
Businesses are starting to believe in automating their processes rather than involving human resources. Moreover, chatbots are now more human and are equipped with artificial intelligence that makes them irresistible.
There are chances that you will end up saving more money and also reduce the ticket time of a customer. It's win-win for both you and your customers.
Implementing Virtual & Augment Reality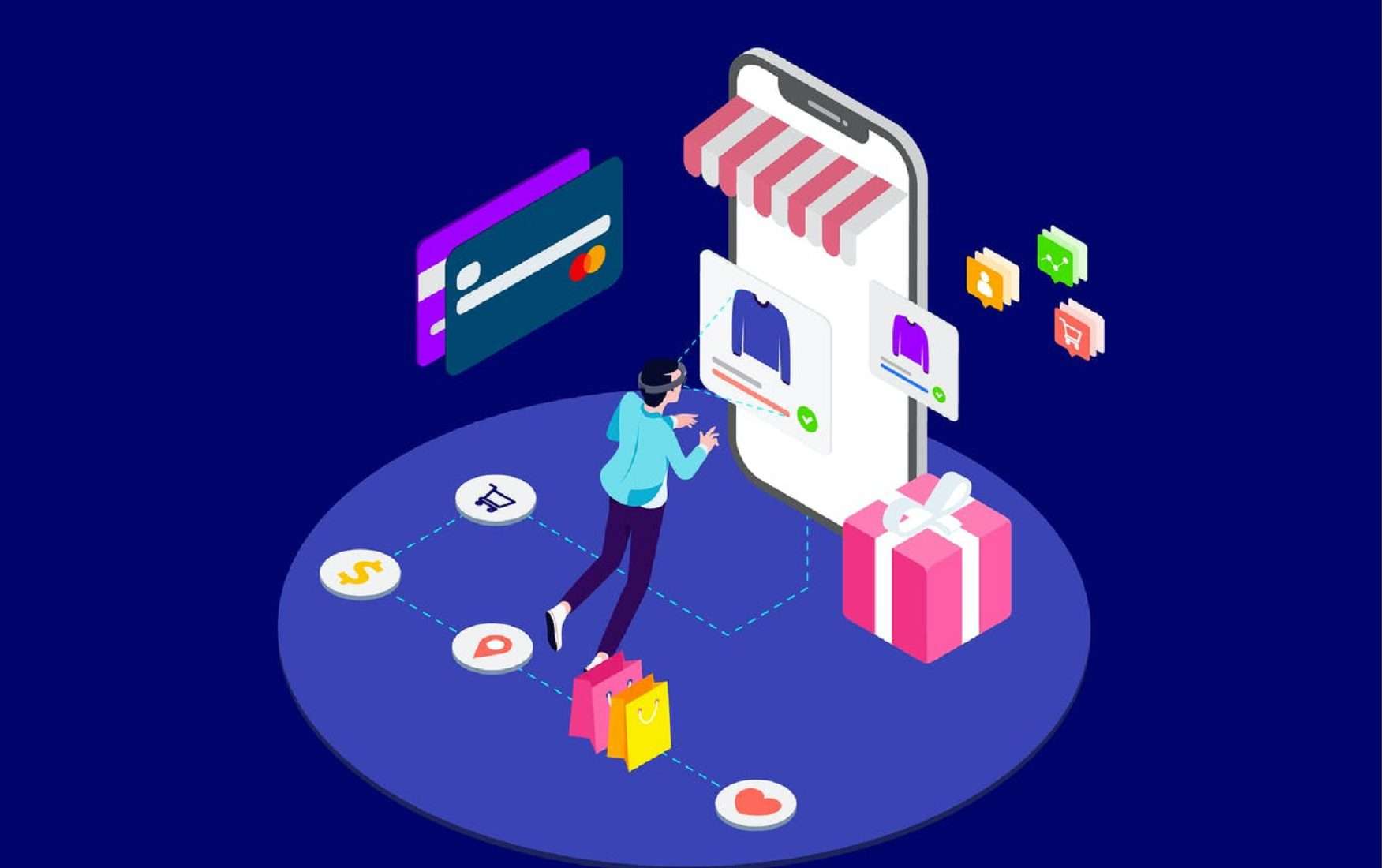 Even if you are not from a technical background, there is a very less possibility that you haven't heard of virtual reality and augmented reality. After gaining popularity in the gaming industry, AR and VR have started penetrating the m-commerce market too.
Numerous big players are already deploying augmented reality to uplift the experience of their app users. Mostly, this technology is being used by home décor businesses to offer a virtual representation of their product. This not only eliminates the doubt that the customer may have while buying the product but also decreases the chances of refunds.
M-commerce is still far behind implementing AR and VR as an offering to their customer. However, this year looks promising for both the technologies to be introduced in shopping apps to enhance customer experience.
Multi-channel shopping platforms
Instead of investing all the blood and money on one platform, businesses these days are happier selling through multiple channels. For instance: anyone who has an online store, a shopping app and brick and mortar store is following this trend.
This strategy is becoming popular so that customers can choose to buy from whichever platform they are comfortable with. Additionally, seeing your brand operate on multiple channel only boosts their trust and encourages them to buy from you more often than not.
Imagine yourself as a customer, you like a pair of jeans in a physical store but you don't want to indulge in impulsive buying so you decide to buy it later. The chances of you buying this product will increase massively if the store informs you they have a mobile app too. This means that you can make up your mind and buy it any time you like.
Most businesses with physical stores already have a WooCommerce website to sell their products. All they need is a mobile app to offer a multi-channel shopping experience to their customers.
Some of the retail stores are going above and beyond to motivate their customers through mobile apps. Geo-location push notifications is a recent development that physical stores have been using. In simple words, you can send push notifications to your customers whenever they're in your location.
Imposing cyber security
With a massive increase in smartphone usage, mobile frauds have become more prevalent from the past few years. Customers are unwilling to indulge in shopping with brands that they have never heard of.
This poses a great challenge for small scale business owners who simply want to establish themselves in the market, or even so just become local champions. The bigger brands are winning the fight because customers trust the brand and know their account details are safe with them.
This gives small businesses all the more reason to invest in assets that make customers feel more secured. Fortunately, e-commerce businesses that have a Shopify website, can easily build an app for their business using a reliable Shopify mobile app builder to establish trust amongst customers.
One of the main reasons why customers don't prefer shopping on mobile browsers is trust which mobile apps automatically come with. Customers tend to feel more secured with mobile apps compared to responsive websites.
In one of the sections above, we discussed about one-click ordering which helps save customer's payment details that can be used every time they place an order. An e-commerce mobile app is a great medium to provide secure payment channel to your patrons.
Moreover, you can also impose two-factor authentication through One Time Password and secure customer's payment details. This is more of a necessity than a trend.
Including wallet payments
Mobile wallets have become an integral part of digital payments in the past few years. Their popularity is not limited to only online shopping, customers find it extremely comforting to pay from mobile wallets in brick and mortar stores as well.
Amazon pay instantly gained popularity when it was launched, considering the number of people who shop from this e-commerce portal is massive. However, the most popular of them all are Samsung Pay, Apple Pay and Android Pay that customers from all around the world are using.
The total mobile wallets users were account for 2.1 billion in the year 2019 which is expected to rise by 1.6 billion in the year 2020. While you are launching your business in the world of m-commerce, you can also introduce mobile wallets as an additional payment channel to your customers.
Launch your business in m-commerce today!
Like we said, the graph of mobile app usage will be on a rise for several years to come. The trends will change constantly while collaborating with newer technology every year.
While m-commerce ropes in both responsive websites and mobile apps, statistics only prove that apps are doing better amongst customers.
If you haven't still build your mobile app yet, consider using AppMySite's free online app maker. This platform will give you the freedom to develop your shopping app yourself and launch it on a shoestring budget.
Stay tuned for more trends to follow!