It is the age of smartphones, and the mobile app industry is defining the success of online businesses. While websites still have a role to play in building online brand image and gaining initial exposure, one ultimately needs mobile apps to keep up the momentum.
It is for this reason that most businesses are complementing their websites with mobile apps and then also promoting their brand on several other platforms like social media channels and marketing networks.
For instance, if you have a WordPress website, then creating a WordPress app for the website can amplify your chances of growth and open more doors of opportunities. You can redirect your incoming web traffic towards the mobile app and turn your visitors into regular customers.
Today, our blog covers this agenda itself. Read the blog till the end and discover some strategies to convert your website visitors into loyal customers. If you do not have an app yet, then stay tuned as we will also tell you how you can create an app and take your business to mobile.
In this blog
Website users vs Mobile app users: A statistical overview
Data is the ultimate source of power for businesses. You can make many business decisions based on facts, surveys, case studies and statistics. Therefore, to help you understand the difference between website visitors and app users, we are sharing a statistical overview.
Discover the noteworthy statistics listed below and learn more about the importance of turning website visitors into mobile app users:
85% shoppers prefer apps over mobile websites for online shopping. Therefore, having an app amplifies your chances of attracting a customer and retaining them.
More than half of all digital media is consumed through mobile apps. Users spend 90% of their mobile time on apps and only 10% on browsing the rest of the internet.
Android app users have session duration of 6.7 minutes and that of iOS users is 5.6 minutes. This is far more than what a visitor is likely to spend on websites.
User spending on app stores is set to increase by 92% in 2022. This shows that every business must have an app in order to be prepared for the rising opportunities.
A 5% increase in customer retention can result in a profit increase between 25-95%. As having an app means turning visitors into returning users, the retention can lead to huge profits.
Mobile app users spend an average 201.8 minutes per month on shopping as compared to website users who spend 10.9 minutes per month.
61% of Millennials download retail apps and 58% of millennials said that they prefer purchasing through apps.
People view 4.2x more products per session within apps, compared to mobile sites. This higher view rate leads to larger basket size and more spending.
Apps have 3x higher conversion rates as compared to mobile sites. So, apps can close more deals than websites.
40.4% of all users buy more of a brand's goods after downloading its e-commerce app. 45.9% also end up visiting their physical store more often.
As evident from the points listed above, apps can turn out to be more beneficial as compared to websites or even mobile sites.
A very few percentages of users return to a website whereas an app once downloaded on a user's phone, is more likely to be opened multiple times. It also offers ease of usage and navigation that ultimately leads to better session times and higher engagements.
Besides, marketing and advertisement messages like push notifications, prompts, updates, etc., create more impact and gain more visibility on apps as compared to websites and desktop notifications.
All these factors make app users more viable for any online brand or business and lead to generating more brand loyalty.
Data Source: AppMySite, Jmango
Tips to redirect website users to mobile app
Let us get to the point and tell you how you can inspire website visitors to download your mobile app and turn into loyal customers. Follow the tips listed below and grow your
#1: Build a mobile friendly website
The first step towards attracting mobile users to your brand website and turning them into loyal visitors is building a mobile friendly website. You can use WordPress to build your website and optimize it to achieve mobile friendliness and SEO friendliness.
This will facilitate easy access of websites for users and their smooth navigational experience will lead to more conversions. Therefore, you must focus on enhancing the core web vitals, speed, performance, and other metrics of your website.
Suggested Read: Five ways to make your WordPress website mobile-friendly
#2: Add prominent links to app stores
Your website must clearly tell the visitors about the app and also encourage them to download it. Use your significant pages to list the links to app stores. Add the links to Google Play Store and Apple App Store adjacent to each other.
Do not place the links away from the easily viewable and scrollable sections of the website. Look for the standard practices and conventions and study a few examples. Place the links accordingly and add prominent descriptions for the links.
#3: Create retargeting ad campaigns
Chances are that your existing or lapsed customers would be more interested in downloading your Android or iOS mobile apps. Therefore, you must create retargeting ad campaigns to connect with those customers and tell them to install your mobile app for a convenient usage.
Monitor your website visitors' activities and use the data to re-target your visitors accordingly. You can also send activity based prompts to users. For instance, if a user gets stuck on navigation, you can suggest them to download the app and navigate more easily.
#4: Send push notifications & emails
Start sending push notifications and emails to your existing visitors and customers with download links for the app. Write short and crisp message copies telling why the reader must download the app and what additional experience can it provide to them.
Run well-designed and well-timed push notification and email campaigns in a coherent manner. You can also seek professional help and design effective campaigns that help you convey the messages to your potential or existing customers in an impactful manner.
Suggested Read: All you need to know about mobile app Push Notifications – A complete guide
#5: Pick simple and consistent CTAs
Whether you are promoting your app on social media, on your website or through the ad and marketing campaigns, adding a content that aligns with your goal and a prominent CTA (call to action) that pushes users towards that goal is highly important.
For this, you will have to pick simple CTAs that can be easily identified and understood. You can go with a direct and conventional terminology like 'Click here to download app', 'Download for Android', 'Download for iOS', 'Install App', 'Download App', 'Download', 'Install', etc., depending upon your introductory content.
Suggested Read: Call-to-Action buttons – All you need to know about high conversion CTAs
#6: Tempt with app-only offers
This is yet another way to tempt your incoming visitors to download the app and get one touch access to your online store and its benefits on their smartphones. Curate smart app-only offers that should not appear biased to your website users but tempt them to try the app for the good.
You can add welcome offers and gift coupons for first time app users, give discounts on initial purchases and app purchase milestones, reward loyalty points and also enable gifts and offers for sharing and recommending the app. Let users download the app and enjoy a better and hassle-free mobile experience.
#7: Retain with amazing experience
Just giving an app to your users and tempting them to download it is not enough. Most users abandon an app immediately if their initial experience is not satisfactory and smooth. So, try to live up to their expectations and keep your app consistent in terms of performance and experience as you do for your website.
Keep the brand theme and other significant elements consistent with your existing website themes, aesthetics, etc. This will ensure that there is no cognitive burden on your users. Also offer them an amazing and smooth navigation and checkout experience. You can also enable guest browsing and checkout and let customers sign up for the app in their own time.
Suggested Read: Mobile app vs mobile website – Why are apps ahead of mobile websites on most KPIs?
Need an app that attracts and retains users?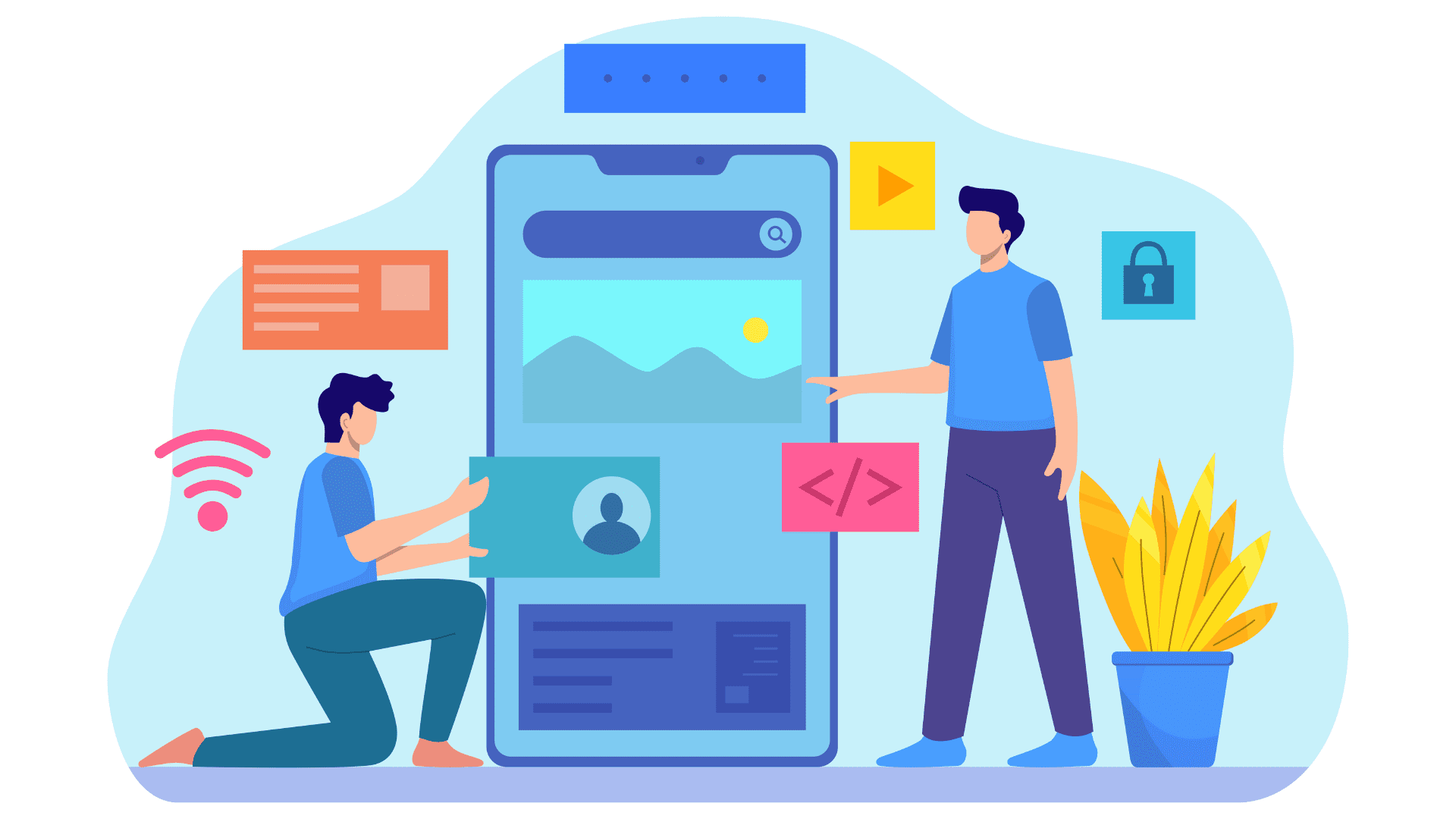 That was all from our end today. As evident from the discussion above, mobile app users can turn out to be more beneficial for your business in the long run. Besides, if you turn your website into app you can also make your brand wholesome and provide your customers and stakeholders with a 360 degree solution.
In fact, a well-designed and smooth functioning app can help you generate more branding, revenue, and conversions. Therefore, if you are planning to create an app for your business, then this is the best time.
If you are worried about the budget and other constraints, then shed all your worries now. Just sign up for AppMySite's iOS and Android app maker and build premium and feature-rich apps at affordable prices. You can also create, customize, and test your apps for free.
Proceed to endorse your app on your website and inspire your visitors to download the Android or iOS apps. Establish a strong hold in the mCommerce industry and make the most of the mobile-friendly future.