The internet has made consumers smarter and faster. Only businesses that know how to turn each moment into a sales opportunity, have the chances of gaining absolute success and popularity.
As an online brand, you may get multiple chances to amp up your store and increase the sales and conversions throughout the year. However, the year-end becomes somewhat more important and demands you to be more attentive and dedicated.
Whether you own a WooCommerce website or a WooCommerce app, or both, prepping your store for the holiday season, year-end and new year sales is absolutely necessary.
This is so because customers are at their enthusiastic best at this time of the year and shopping shenanigans are at all time high. With the right strategy and a magnetic approach, any brand can rope in a huge number of customers and multiply their profits.
So, browse through this blog and discover some tips and tricks as you prepare for the holiday season and year-end sales. Get an edge over your competitors and ensure unprecedented success, sales and popularity.
Renovate your store and make the most of holidays & new year!
One does not need to be a data scientist or a retail expert to know that consumer spending and shopping increases massively during the year-end as it also marks the holiday season and people expect good deals and offers.
So, now that 2021 is towards culmination and 2022 is almost here, how can you make the most out of the online consumers shopping spree? Read further and find out!
#1: Upgrade design & layout
Most people decorate their outlets and brick & mortar stores during the holiday season but forget to give the same decorative makeover to their online store.
Aesthetics, colors, design, layout, etc., play a more significant role in capturing customers' attention than what you can imagine. It can hook shoppers to the platform and inspire them to act.
In short, you e-store should "give out a festive and pompous vibe" to customers. To ensure the same, you can upgrade the design and layout and give a festive makeover to your platform. Do not overdo, but definitely do not miss out on the opportunity of renovating your color palette and giving your design elements a makeover.
You can go with the Christmassy red and white, or pick any other color relevant as per the season, festivals, themes, etc. Make sure that your choices agree with your overall brand theme.
#2: Introduce new features
Holidays and year-end could be a great time to introduce some new features on your store and enter the new year with something more than what you already had.
For instance, you could add a new category or functionality that your customers were looking for. You can also introduce features like guest browsing and chat support.
Besides adding more value and functionality to your e-store, chat support will also help you qualify more leads and turn more visitors into customers. Think of more features like these and implement them as soon as you can.
Suggested Read: The unlimited benefits of integrating chat feature in your mobile app
#3: Overhaul your inventory
Give a makeover to your product inventory and listing and also optimize the process of shopping and checkout. Instead of making huge changes that your customers take time to get accustomed to, play safe and make it effortless for them.
You can change the main banner, add new sections and categories, upgrade product descriptions to suit the holiday temperament, up-sell and cross-sell products, and more.
You can also level up your content marketing game and introduce blogs on your store. Here, you can share useful insights with your potential or existing customers and give them tours of your products.
Also try to add testimonials, genuine product reviews and ratings, etc., and strengthen social proof. You can also add numbers and statistics boasting of your milestones and earn easy trust of customers.
#4: Create lucrative deals & offers
Having the right opportunities is just half the winning, how you handle them decides the rest of your game results. While every brand knows that customers love deals, discounts, offers, gifts, etc., very few manage to get it right without affecting their own profit.
Creating lucrative deals for customers should not come at the cost of your own profit. In fact, if played strategically, it can be a win-win situation for both sellers and buyers. For instance, you can give discounts on certain fixed minimum order values, and push customers to at least purchase that much.
Additionally, you can bundle your products into smart packages and sell multiple products as one. You can also run referral rewards program, loyalty rewards program, etc., and inspire customers to engage and interact with your brand more frequently.
Make the customers feel smart and rewarded and they will definitely keep coming back to you. You can take some hints from our blog suggested below and run a successful sales campaign on your store.
Suggested Read: How to run a successful sales campaign on your WooCommerce store? A complete guide
#5: Harness social media platforms
Social media is nothing short of a boon for online businesses. When used strategically and harnessed smartly, it can do wonders for your business.
Use different social media platforms to promote your campaigns and ongoing deals and offers. You can also organize campaigns specific to the platform and make your customers and followers participate and feel a part of your brand.
You can organize content creation contests, quizzes, webinars, celebrity sessions, etc. You can also use social media influencers to promote your brand and create a buzz about your ongoing deals and offers.
#6: Leverage email marketing
Emails can never go out of fashion. Besides, it gives you more space to create and propagate elaborate content in a detailed and explanatory manner. So, leverage email marketing and boost sales in the traditional manner.
Send regular newsletters and announcement emails to customers to inform them of the latest product arrivals, offers, deals, mileposts, and more.
You can also segment your customers based on their position in the sales funnel, order and purchase history, behavior, etc., and send emails accordingly. Customize the content and send personalized emails to make your users feel special and different.
#7: Send push notifications
Push notifications can work like magic in the age where many customers do not have the patience to go through long emails or browse through lengthy social media posts.
Create a strong push notification campaign and buzz your users' phones with meaningful and interesting messages. Use push notifications to send personalized recommendations and offers triggered as per user activities or your own brand developments.
You can also use the messages just to drop a causal hello or wish your customers a Merry Christmas! Basically, remain in your customers' sights and minds and keep them engaged to your brand.
Suggested Read: All you need to know about mobile app Push Notifications – A complete guide
#8: Try new marketing ways
Do not shock or baffle your customers but try to win them over with pleasant surprises, innovative endeavors, eye-catching makeovers, and more.
For instance, you can try new and different marketing and branding techniques like moment marketing, empathy marketing, and more. Read about these in detail and design interesting campaigns accordingly.
Try to think beyond "in your face sales strategies" and touch your customers on a more personal and emotional level. Make them laugh or move them to tears, show your funny or philanthropic side and motivate customers to connect with your brand on a deeper level.
#9: Partner with other brands
Holidays and year-end can be a great time for networking too. Reach out to other brands and partner with them on various deals, offers, events, etc.
For instance, you can run cross platform discounts, give gift coupons for other brand outlets, organize concerts with other brands, run sponsored content to promote their products and services, and more.
Go with brands that align with your own brand messaging without affecting your exclusivity and brand image. This will present your customers with multiple options under one roof and inspire them to participate more actively.
#10: De-clutter traffic with app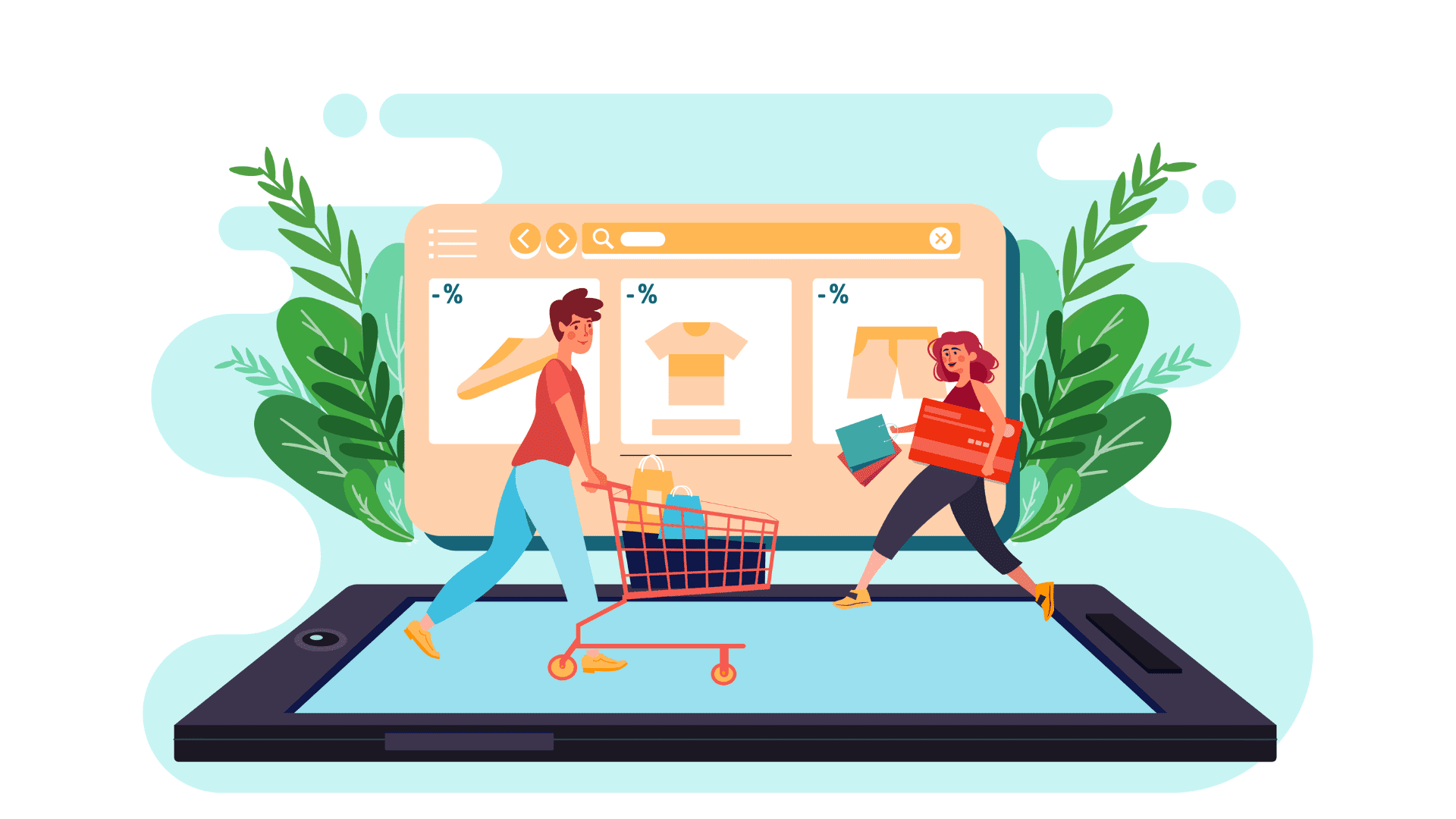 Now this has been listed at the end because many businesses already have an app, but it is one of the most important points in our list. We recommend you create an app if you haven't already, and make your eCommerce business more mobile-friendly than ever. After all, 2021 is not over yet and apps are already ruling the world.
The popularity of apps over websites is only going to grow in the coming year. So, you better create one for yourself. It will help you decongest your website traffic and give regular customers ease and mobility, and inspire more conversions. You can sign up for a free app maker and get rid of constraints like time and budget.
Suggested Read: Top 5 reasons for cart abandonment and how to resolve it
Wrapping up!
That was all from our end today! Implement these tips and strategies and make the most of the upcoming holiday season and new year. Upgrade your website and build an app that attracts your users and inspires conversions.
Create deals that your customers fail to resist and start 2022 on a profitable note. You can also explore AppMySite and discover other blogs on eCommerce and mCommerce. We have a huge content bank that can help online brands and businesses enhance their performance and image.
So, make use of all our resources and give your business the uplift it needs. Make the most of the opportunities coming your way and increase your sales manifold.