WordPress is the ultimate CMS and has the biggest and strongest hold on the internet.
(Statistics say so!)
WooCommerce, the eCommerce plugin for WordPress, has a similar dominance in the market. It is used extensively by all kinds of individuals, organizations, and businesses. The variation and versatility is just mind-blowing.
In fact, it is one of the most popular WordPress plugins that has surpassed five million installs. This is just one stat related to WooCommerce. Stay with us and learn about some more fascinating statistics and facts. Let's begin!
In this blog
WooCommerce: An introduction
For those of you wondering what WooCommerce really is, it is an open-source eCommerce plugin for WordPress, and you can create eCommerce websites with it. (Open-source means that the software has code that is designed for public access. Anyone can see, modify, and distribute such codes.)
It is highly popular due to its simplicity and extensive customizability. For instance, it can be used by a blogger to sell some merchandize as well as a full-blown online store that has multiple sellers and hosts a huge traffic of buyers.
Backed by the powers of WordPress, this plugin is used by 20.3% of all the websites that use WordPress and it can do wonders for your business. In fact, despite full-fledged eCommerce website builder platforms like Shopify and Magento, WooCommerce emerges as an industry leader and leaves its competitors behind by great numbers.
WooCommerce history: Where it all began
Let us start with taking a walk down the memory lane and learn where it all began for WooCommerce. Now WordPress, the parent CMS, was released on May 27, 2003, by its founders Matt Mullenweg and Mike Little.
WooCommerce came in a little late and was initially released by a company called WooThemes on September 17, 2011. It was founded by Adii Pienaar, Magnus Jepson and Mark Forrester. WooThemes was later acquired by Automattic, a company founded by Matt Mullenweg, and the plugin was renamed to WooCommerce in May 2015.
Ever since then, its popularity has increased drastically and there has been no looking back. In fact, WooCommerce has achieved several milestones since then, that have given it the power and authority over the web that it currently holds. Discover those milestones in the section below and know more.
Milestones achieved by WooCommerce
Rome was not built in a day and WooCommerce did not become this famous overnight. It took a lot of steps and many little achievements spread throughout the course of its time-line. Let us look at some of the mileposts that WooCommerce has achieved and gain some more perspective:
One of the most popular WooCommerce themes Canvas was released in 2009.
Hiro, the WooCommerce brand mascot was launched in July 2010.
Swatch, the 100th theme, was released in August 2011.
WooCommerce 2.0 was released in March 2013.
The plugin hit 1 million downloads in less than two years in June 2013.
The 200,000th order was placed on August 15, 2013.
WooCommerce hits quadrupled in a year and went to 4 million downloads in August 2014.
It hit 7 million downloads just the next year in April 2015.
WooCommerce's sales surpassed $20 billion in 2020.
WooCommerce recorded a peak of 746,601 downloads on November 25, 2020.
These were just some numbers that trace the rise of WooCommerce as a popular product over the decade. Keep scrolling to discover the market share and hold of WooCommerce on the web.
WooCommerce share on the web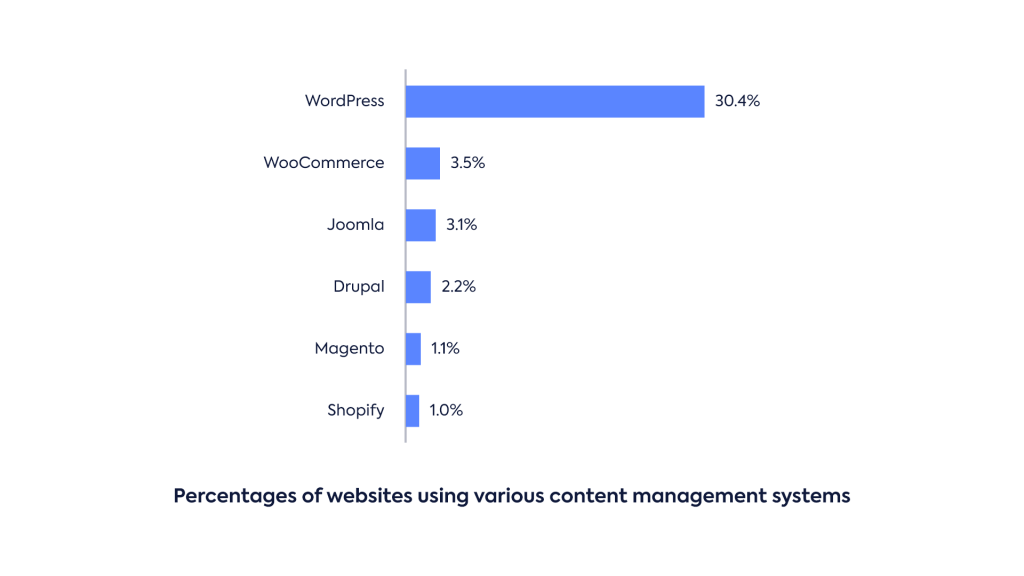 WooCommerce is huge and popular.
There are around 24 million eCommerce websites around the world. With several new websites being created every day, the number is increasing rapidly. However, WooCommerce can be credited for the largest share when it comes to platforms that are powering such websites. In fact, WooCommerce powers more than 3.5% of all websites on the web.
Additionally, 13.1% of all the known websites that are being powered by a CMS use WooCommerce. If we were to put that in numbers, then it is being used by at least 5,106,506 live websites on the Internet. Now if we factor in historical (expired) sites, then the number goes up to 6,366,515 sites.
If we narrow this down to the share of WooCommerce among the eCommerce websites strictly, the number stands at 33.14%. It means that WooCommerce powers more than 30% of all online stores. Not just that, 93.7% of all WordPress ecommerce websites use the WooCommerce plugin.
It may also interest you to know that the official WooCommerce plugin has been downloaded 161,908,800+ times from WordPress.org till date. Additionally, statistics for websites using plugin/module technologies show that WooCommerce is also the most popular plugin across the internet with 68% usage distribution.
All these facts and statistics go on to show that WooCommerce is the ultimate champion. Its users are highly active, and the plugin is immensely popular on the web.
WooCommerce share among the top websites
WooCommerce stands triumphant even when we consider the market-share distribution of various platforms among the top eCommerce websites on the web. Let us go through some numbers depicting the share of WooCommerce among the top eCommerce websites.
eCommerce usage distribution among the top 1 million sites
The number of eCommerce websites among top 1 million sites by traffic stands at 339,014. The market share distribution of top eCommerce extensions in this category is as follows:
WooCommerce: 29% of all eCommerce websites; 3.97% of all websites; 39,747 websites
Shopify: 19% of all eCommerce websites; 2.68% of all websites; 26,796 websites
Magento: 8% of all eCommerce websites; 1.13% of all websites; 11,340 websites
eCommerce usage distribution among the top 100 thousand sites
The number of detected eCommerce websites among the top 100 thousand sites by traffic stands at 46,156. The market share distribution of top eCommerce extensions in this category is as follows:
Shopify: 19% of all eCommerce websites; 2.95% of all websites; 2.952 websites
WooCommerce: 15% of all eCommerce websites; 2.3% of all websites; 2,295 websites
Magento: 8% of all eCommerce websites; 1.33% of all websites; 1,334 websites
The rest 58% is owned by other eCommerce platforms.
eCommerce usage distribution among the top 10 thousand sites
The number of detected eCommerce websites among the top 10 thousand sites by traffic stands at 6,398. The market share distribution of top eCommerce extensions in this category is as follows:
Shopify: 19% of all eCommerce websites; 2.95% of all websites; 2.952 websites
WooCommerce: 8% of all eCommerce websites; 2.3% of all websites; 2,295 websites
Magento: 8% of all eCommerce websites; 1.33% of all websites; 1,334 websites
The rest 65% is owned by other eCommerce platforms.
WooCommerce brings in revenue
Apart from leading in the percentage of market share, WooCommerce also beats other eCommerce platforms when it comes to revenue generation. WooCommerce accounts for 7% of all online sales across the world. This number can go far up when we factor in only the sales made through retail eCommerce websites in specific and should be somewhere around 28%.
In fact, as per the report mentioned above, there are at least 54 websites powered by WooCommerce, that have sales revenue of more than USD 1 million and at least 11,197 websites that have sales revenue of more than USD 100 thousand.
The eCommerce plugin is quite advanced and offers integration with more than 30 payment gateways for automatic recurring payments, besides offering support for subscription-based pricing model. This makes it suitable for handling all kinds of sales and transactions across verticals.
In fact, WooCommerce revenue that comes from extensions is constantly growing. Sales of such plugins generated more than USD 30 million last year. According to Matt Mullenweg, the co-founder of WordPress, the WooCommerce revenue in 2020 surpassed USD 20 billion.
Additionally, the GMV (Gross Merchandise Volume) of WooCommerce stores was estimated to be around USD 11.8 billion in the year 2019. It shows that WooCommerce is powering stores that have together create an industry that is worth billions of dollars.
WooCommerce vs Competitors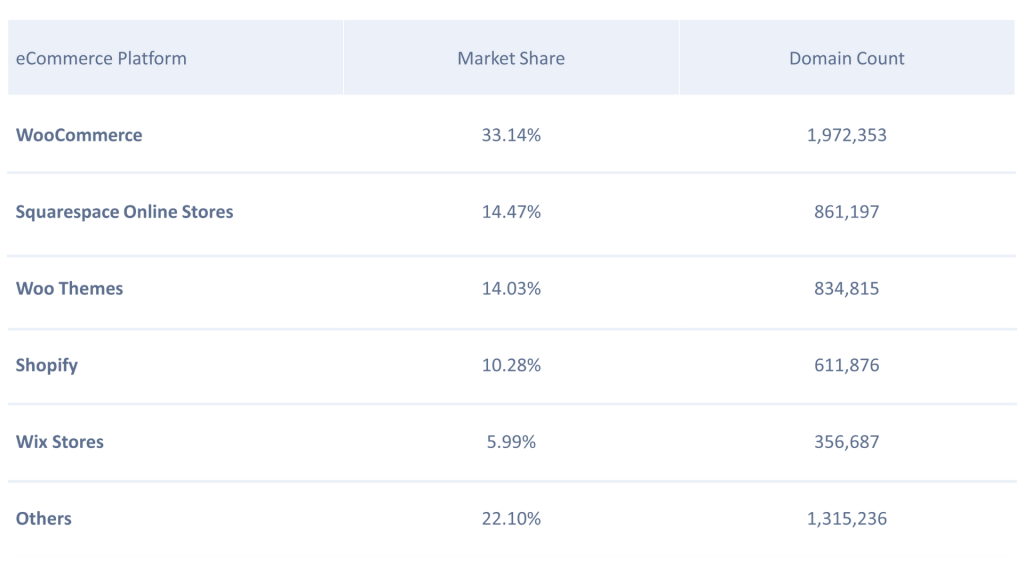 The list of WooCommerce competitors is long. However, WooCommerce tops the chart with the largest share in the market as compared to other eCommerce platform technologies. Let us see how it compares against its top competitors in the section below:
WooCommerce: Share of 33.14% with 1,972,353 domains using it
Squarespace Online Stores: Share of 14.47% with 861,197 domains using it
Woo Themes: Share of 14.03% with 834,815 domains using it
Shopify: Share of 10.28% with 611,876 domains using it
Wix Stores: Share of 5.99% with 356,687 domains using it
Others: Share of 22.10% with 1,315,236 domains using it
Please note that the 'others' section here includes the eCommerce platforms not listed here. This includes names like Magento, PrestaShop, MonsterCommerce, etc.
As evident, WooCommerce emerges the champion when it comes to having a dominant share in the eCommerce market. Most of its competitors are far behind by huge margins. However, it is worth noting that despite being stand-alone platforms, most of them give a tough fight to WooCommerce.
For instance, Shopify leaves WooCommerce behind when we consider only the top 100 thousand or 10 thousand websites in the world. Then again, WooCommerce takes the lead in the top 1 million category, depicting its popularity among the masses.
It might also interest you to know that as per Google Trends, the keywords Shopify and Magento have garnered more searches than WooCommerce. In fact, WooCommerce and Squarespace remain almost equal on this parameter.
However, the fact that WooCommerce is the supreme and the most popular one still remains unchanged. It gives quite a run to its competitors and unlike Shopify or Magento that are more esoteric in their approach, WooCommerce is loved by one and all across the globe.
WooCommerce has endless themes
WooCommerce themes are truly the best and help you create elegant and aesthetic shops and stores. There are thousands of themes available to suit any and all kinds of websites and these themes attract hundreds and thousands of sales.
To be more precise, WordPress has more than 1,400 WooCommerce themes listed on the WordPress theme directory. Additionally, the number of WooCommerce themes on ThemeForest stands at around 1300. This means that you can choose from over 1,300 themes and templates as you create your WooCommerce store.
Suggested Read: How to choose a fast and reliable WordPress theme for your website?
WooCommerce is powered by thousands of plugins
WooCommerce is a popular plugin that has the advantage of huge WordPress infrastructure as compared to the stand-alone platforms like Shopify. Additionally, it is also backed by several other plugins that add more depth and dynamics to the functionality and viability of the platform.
Our very own AppMySite app creator plugin for WooCommerce is one of them!
In fact, there are more than 6000 WooCommerce plugins in the WordPress plugin directory alone and they together make your experience richer and better. CodeCanyon also accommodates around 1,878 WooCommerce plugins and WooCommerce Amazon Affiliates extension is one of the most popular plugins listed here with more than 31,000 sales and counting.
The official site of WooCommerce has more than 500 official WooCommerce plugin extensions listed on its platform that include both free and paid plugins. Google Analytics is one of the most popular WooCommerce extension with more than 40,000 users.
Location and Language related stats
WooCommerce is popular across geographic and demographic borders. There are several location and language-wise statistics that highlight the same. Let's uncover them:
WooCommerce currently supports 67 languages and their variations including Arabic, Albanian, Catalan, French, Spanish, Italian, Chinese, and others.
WooCommerce is used in 100+ countries.
Based on the strength of live websites, the top five countries using WooCommerce would be the following:

United States: 245,287
United Kingdom: 23,854
India: 14,655
Iran: 9,512
Canada: 8,316
This is just a glimpse of the stretch and popularity of WooCommerce across the globe. With an endless list of products and extended functionalities, it remains one of the most popular eCommerce platforms across many countries.
Popular brands using WooCommerce
WooCommerce is being used by some of the top brands to power their websites. As per a report by trends built with, the list is pretty long with over 5 million results. This includes some popular names like:
Themeforest
Transmitter
Hotstar
Forbes
CodeCanyon
ElegantThemes
Pinterest
UNICEF
That's not all. Most of these websites have high economic value and their tech spend and revenue amounts to thousands of dollars. For instance, CodeCanyon's value for sales revenue stands at USD 608,000+ and it earns huge number of traffic every day.
Some more fun facts about WooCommerce
You are probably overwhelmed but that was not all! We have some more statistics left. Let us quickly go through some more mind-blowing WooCommerce related facts and stats before we wrap this up:
If all the WooCommerce stores formed a single country, its revenue would be greater than 35% of the world's countries.
There are around 12.4% websites using WooCommerce outside of WordPress for their eCommerce setup.
WooCommerce plugin on WordPress.org has 3,190+ five-star ratings.
WooCommerce plugin is downloaded at least 30,000 times every day from WordPress.org.
According to WooCommerce stats, the strongest active installation growth of 0.8% was recorded on February 28, 2021.
25.3% active users of WooCommerce are on Version 6.4; 12.4% are using Version 6.3; 5.4% are using Version 6.2; whereas the other versions make up for around 56.9% active usage.
Searches for WooCommerce keywords have increased. It went up to 44.30% in the year 2020.
The hashtag (#) WooCommerce fetches more than 200 thousand results on Instagram and 31 thousand results on Facebook. The Google search result goes up to several hundred billion.
Top industry verticals with WooCommerce usage are Electronics & Technology (2.94%), Lifestyle (1.76%), Food & Drink (1.75%), and Health (1.74%).
WooCommerce's repository on GitHub has 1,145 contributors. These contributors have made around 38,909 commits, 170 branches, and 458 releases on the repository, and the numbers are growing constantly.
The WooCommerce forum on WordPress.org is a pretty big and busy community and the forum has over 39,000 topics for discussion.
WooCommerce Meetups are organized frequently around the globe. It has around 45,611 members and 144 groups in around 47 countries around the world.
Suggested Read: Understanding software version numbers: The complete guide
The future projections for WooCommerce
The future for WooCommerce is bright and glorious. It has been on a consistent growth trajectory, and we do not see any reason why it would not continue to scale to greater heights. In fact, studies show that WooCommerce grows faster than any other eCommerce platforms at the rate of 13-15% every four months.
It is noteworthy that almost 330 sites that are powered by WooCommerce climb into the category of top 10 million websites every day. WordPress leads this chart with almost 980 daily additions overall.
Clearly, WordPress and WooCommerce are here to stay and grow bigger in the coming years. In fact, it is the best time to invest in WooCommerce and WooCommerce mobile app builders as the eCommerce industry is booming and you can make the most of it if you start early.
Wrapping up!
The bottom line is that WooCommerce is hands down one of the best eCommerce platforms. All the facts and statistics listed above are testimony that just like WordPress, its eCommerce counterpart WooCommerce is also a leading name and will continue to rule the industry for ages to come.
Its immense features, flexibility and affordability make it suitable for all kinds of businesses. You can create your website with WooCommerce and start an online business in no time. And while you are at it, you can also checkout AppMySite's free app builder that let's you create apps for your WooCommerce websites.
You can also checkout our other blogs and learn more about WordPress, WooCommerce and mobile apps. Whether you need help with your WordPress snags or want some guidance setting up your store on WooCommerce, we have you covered. So, unleash the true potential of your business with AppMySite and scale to great heights.