Owning an online agency in 2023 is challenging. AI has taken the world by storm and the availability of smart and easy SaaS solutions is changing the way customers avail for or purchase software products and services.
So, what is the solution? How can you ensure that your agency grows consistently while keeping your customers content and offering them affordable but quality solutions? The answer lies in the title above: By reselling mobile apps.
If you are wondering why mobile apps, then stay tuned with us. We will answer all your questions one by one. Go through the points discussed below and know why reselling apps is one of the most trending expansion ideas for agencies.
In this blog
Why fixate on mobile app development?
'Why focus on apps?' If this is what you are wondering, we hear you. Yes, we specialize in no-code app development but that is not the (only) reason why we recommend app development to resellers.
We do so because we know that this is one of the fastest growing industries. You do not have to take our word for it. Go through the points discussed below and know for yourself:
I: Stats show that the mobile industry is booming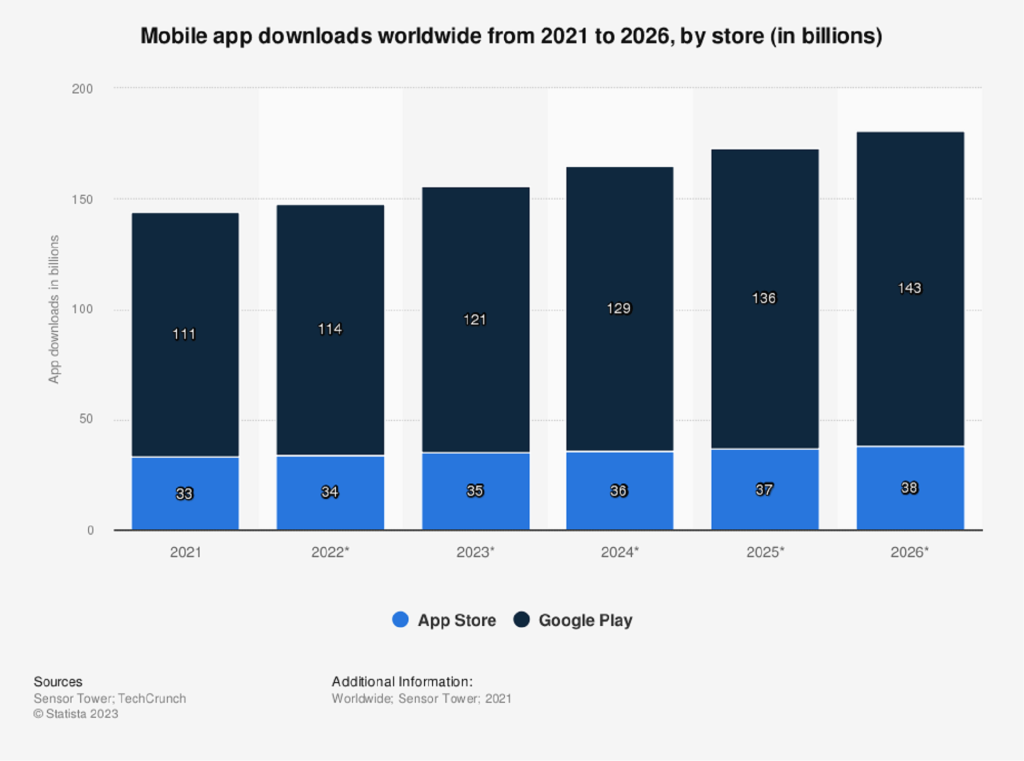 There are several software products and SaaS solutions available out there. However, creating apps is strongly recommended above all. This is because smartphones are ruling the world and have become our go-to solution for every need.
As a result, there has been a tremendous increase in mobile app downloads (refer to the image above.) By 2026, the number of app downloads is expected to reach 181 billion, out of which App Store will contribute 38 billion and Google Play Store will contribute 143 billion downloads.
Websites have now started experiencing saturation as more and more people are turning towards apps and app development. As the advent of AI-powered searches is likely to change SEO, web-based traffic will likely become unreliable in the coming time.
This is why apps have become imperative for any entity. Eventually, app development has risen as one of the best business options for individual developers as well as large agencies. Reselling mobile app development solutions can power you to tap this potential.
Read in detail: Top 75+ mobile app statistics – Market size & usage
II: No-code technology has made app development easier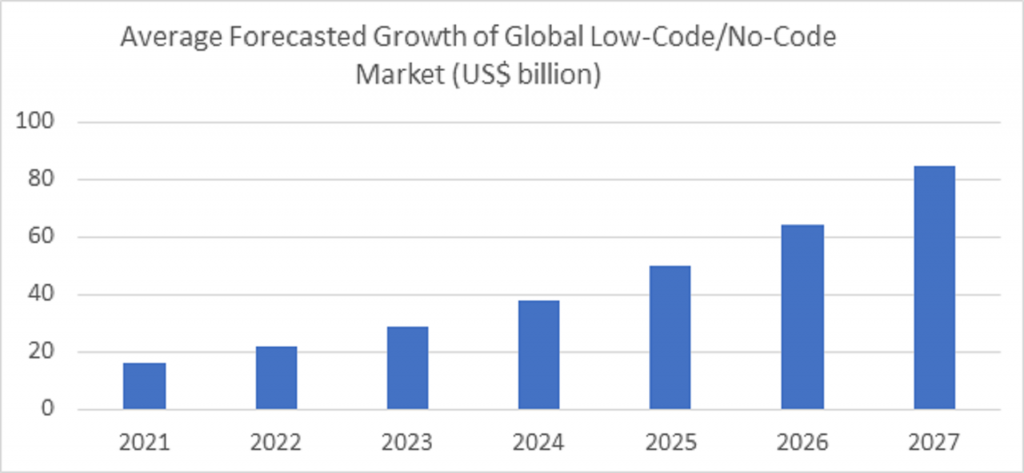 Here's the other reason why we highly recommend reselling apps to agencies as compared to other SaaS solutions. It is so because app development is now easier than ever, thanks to the availability of low-code and no-code mobile app development tools.
Low-code and no-code tools minimize the challenges of app development that were once dreaded in the industry. Creating apps has become easier, leading to low entry barriers and faster delivery. This ultimately leads to better request handling and productivity.
From freelance developers to large tech corporations, these technologies are being leveraged everywhere. Their market is gradually increasing, as more and more businesses are adopting these technologies to fasten and optimize their work processes.
As evident, the challenges stand eliminated, and app development becomes feasible for all with no-code app builders. Thus, there is no reason why one should not grab the opportunity and resell no-code app-building solutions to their customers.
Read in detail: Low-code & No-code development platforms: Market share & size
7 reasons to go with white-label app development
We have established why apps and app development are the most lucrative and viable options from a business point of view. Now let us cut to the chase. Go through the points listed below and discover the reasons why you should go with a white-label app development solution: 
I: Saves you time, money, and resources
A white-label app development platform gives you access to a readymade and reliable solution. Therefore, all the steps required between research and app development are eliminated. This includes everything from hiring a huge team of experts to getting an expensive technology stack and setting up a huge infrastructure.
All such steps become obsolete as an ideal platform does all the heavy lifting for you. All you need is a subscription to one such platform and you can start reselling apps to your customers instantly. This saves you a ton of money and hours' worth of effort. You can use all the saved time and resources to empower other aspects of your business.
II: Empowers you to offer valuable services
Ever felt limited when your customers demanded something extra, and you could not deliver? If you know the feeling, you should also be aware of the joy of offering additional benefits and services to your clientele. This is where a white-label mobile app development platform can be of great use.
Most customers today look for mobile-centric solutions. Creating unlimited apps or even enabling your customers to create apps for themselves can increase the value of your offerings. As product updates and enhancements are handled by the white-label provider, you can focus on making your agency more efficient for your customers.
III: Increases your productivity and efficiency
In general, an average developer takes at least 3 months to create an MVP (Minimum Viable Product) and around 6 months to scale it to a full-fledged app. This period can increase if the app features, design, and functionalities are highly complicated. Evidently, taking this route to development can be limiting and hinder your growth.
On the other hand, a code-free white label app maker like AppMySite enables you to create premium and flawless apps within minutes. It directly impacts and enhances your productivity and efficiency and empowers your staff to deliver more app projects within a limited period of time. You can imagine how it can change your business for the good!
IV: Ensures better returns at zero risks
Imagine investing a huge number of resources and talent into a project only to find out that you made a mistake at some point or that your client's requirements have changed in the due course of time. This can be frustrating and cause heavy losses. Moreover, the infrastructure that you invest in can also become obsolete in the time to come as technology is rapidly changing.
This is why going with a white-label platform can be the best decision you make. Look for a platform that allows you to create free prototypes. You will be able to share the project's development with your customers to get feedback at an early stage and modify it accordingly. Above all, a white label app creator allows you to enjoy endless benefits without the hassles and risks that come with the traditional methods of app development.
V: Enhances agency-customer relationships
As discussed above, a white label app builder lets you cater to your customers' changing and growing demands without any conflict. Fast-tracked solutions and expedited project deliveries lead to better buyer satisfaction and give a boost to your business-customer relationship.
As the development becomes more affordable, fast, and easy, you can redirect your efforts and resources towards enhancing the experience for your immediate customers, as well as their end users and buyers. This enhanced approach towards business and offerings leads to more customer loyalty and an increase in engagements.
VI: Allows you to target new markets and customers
Mobile apps are present everywhere. In fact, it is hard to imagine any industry that is not being powered by apps in some way or the other. For instance, even the event management industry, which is mostly dependent on outdoor events, makes use of apps for event booking, booking of seats, sending out updates, and so on.
Clearly, mobile app development is required by one and all. Therefore, a white-label development tool lets you target new markets and customers that are in need of apps. You can create apps for them or empower such business owners and individuals to build their own apps through your DIY app builder platform.
VII: Gives an unprecedented boost to growth metrics
All the reasons listed above boil down to the fact that white-label app builders can increase your agency's overall caliber and give a boost to your productivity, engagement, and revenue. This in turn leads to a notable jump in all your success and growth metrics like optimized project delivery, higher earnings, positive customer feedback, and so on.
As a result, your performance reports can become impressive. You can use this as leverage to get better funding or felicitation from your investors and stakeholders. Moreover, you can also use the metrics to build social proof and exhibit how your agency has been scaling and growing while offering new-age solutions to customers.
Where to start?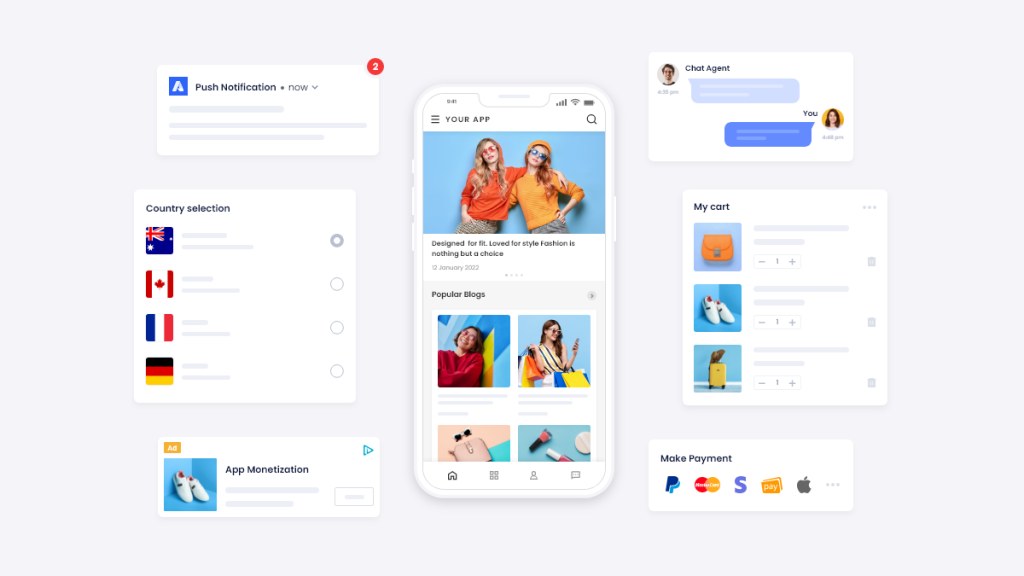 Intrigued? Now that you know of the unending advantages of reselling apps and app development solutions, it is time to get started and claim your share of space in the mobile app development industry. You can either dedicate your agency to app development and related solutions or sell it as an added service on top of all your offerings.
No matter what your agency's niche and expertise is, double up as a mobile app development platform and open new avenues of business and success. All you need in this journey is a reliable partner like AppMySite.
AppMySite's agency solution is one of the best white label reseller programs that you can enroll in. It is an end-to-end solution for no-code app development of all kinds (website to app, custom app, apps for a specific industry, and so on). You can either create apps and resell them or simply offer the no-code platform and let your customers create their own apps.
The choice is yours to make. Build apps in record time in a guided and DIY environment and resell them on your own terms. Design apps like a pro without any prior experience and wow your customers. Give a boost to your metrics and grow unprecedentedly.
Frequently asked questions
Which is the best white label software for reselling?
There are several white label software tools available out there. However, we strongly recommend you go with a DIY mobile app builder solution. Mobile apps are responsible for billion-dollar industries and are dominating in almost every realm. Moreover, the demand for apps is constantly increasing. A white label app development tool will help you tap into this market with roaring potential and make the most of it. Therefore, you can go with a white label app development SaaS solution like AppMySite and resell mobile apps to your customers.
Is reselling white label apps viable for my agency?
The short answer is YES! Reselling white label apps or even a white label mobile app development solution is one of the best options for agencies. You can white label apps or simply offer a white-label app development tool and enable your customers to build their own apps under your banner. This process ensures a minimum barrier to entry and does not require you to invest heavily in infrastructure, talent, or other necessary resources. Above all, it opens an all-new market and revenue stream and allows you to grow your agency exponentially.
What is the alternative to outsourcing app development?
Outsourcing mobile app development might seem like a doable option but it can get tricky in the long run. As an agency, outsourcing your app development to another custom app development agency or company is not going to change much for you. In fact, project delays and inconsistencies from their end can cost you your own brand image. On the other hand, implementing a white label app development solution can enable you to enjoy the benefits of offering a software solution without completely taking away the control from your hands. Instead, you get a tried and tested solution that is ideally reliable and has the ability to satisfy your customers.
How can I start reselling white label mobile apps?
You can start reselling white label mobile apps as soon as you have enrolled in a white label reseller partnership. The best option would be to go with a no-code SaaS platform that enables end-to-end mobile app development. Note that you can either simply resell the tool as is or get into a white label partnership and resell the product under your own brand name. The choice should be yours. For instance, AppMySite's white-label agency solution enables it all. Here, you can get into an affiliate partnership, create white label apps for your customers, or resell the no-code white label app builder to your customers.
Is AppMySite a viable white label solution for agencies?
AppMySite is one of the best solutions for agencies of all kinds. It offers several mobile app development products, all suitable for creating different kinds of apps without any coding. Either mobilize your staff to create apps and deliver projects at lightning speed or enable your customers to create their own apps. You can get in touch with us to know more about it and get onboard with ease.