The proliferation of technology has led to the empowerment of businesses, enterprises, and agencies. However, it has also led to better customer awareness and connectivity, thereby causing an increase in consumer demand.
To keep up with the rapid changes, businesses need to maintain their competitive edge and exceed their customers' expectations. This stands true for the growing demands of mobile applications as well.
From eCommerce to on-demand and consumer to enterprise app development, the industry is growing rapidly. However, not every agency or business is equipped to handle the demands at the same pace. Besides, there are many factors worth considering before venturing into full-fledged app development.
This leaves many of us with the dilemma of choosing between outsourcing and in-house app development. So, which one is better? Let us help you find out. Read the blog and go through a detailed comparison. Also, find the best alternative to outsourcing and traditional methods of app development.
In this Blog
Outsourcing vs. In-house development: Here's what the statistics say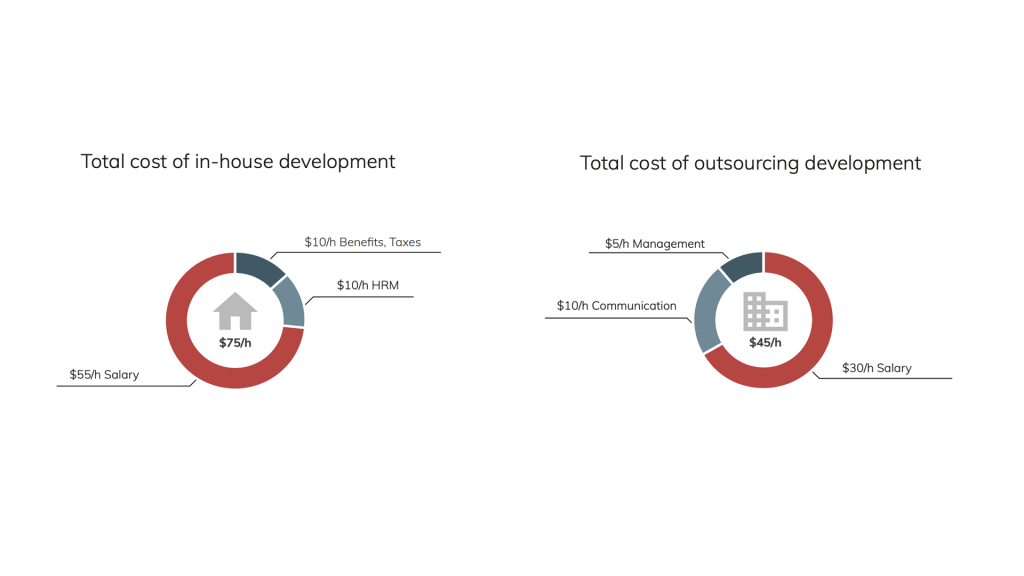 The statistics above indicate that in-house development has become costly and challenging over time. It is especially not feasible for agencies and businesses that are not solely dedicated to software development and lack access to desired talent, infrastructure, and resources.
While outsourcing emerged as a suitable alternative to in-house development, it has its own challenges like lack of control over the cost and process, increasing demand, and high expenditure. Disruptive low-code and no-code SaaS solutions are turning out to be a better alternative to outsourcing app development.
Outsourcing vs. In-house app development: A detailed comparison
App development has become a business necessity. From individual and small-scale business owners to large-scale enterprises, almost everyone requires mobile apps to connect with their customers, streamline their business processes, and amplify their reach and revenue.
However, not every business can have the same approach towards development. Similarly, not every agency will need development at the same volume or scale. This brings us to the important question: How to choose between outsourcing and in-house app development?
The best way is to explore both the options in detail and then pick whatever suits you the best. Here, we have compared both the options in detail. So, continue to read and find out for yourself.
What is outsourcing?
In the age of rapid technological growth, the lines between different niches, industries, and verticals are blurred. Businesses often need to perform tasks or offer services that are beyond their scope of work or that they are not equipped to perform. This is where outsourcing comes into the picture.
As evident by the name, outsourcing is a business practice where a company hires a third party to perform tasks, create products, handle business processes & operations, or provide services for the company or on behalf of the company. It is a common practice among businesses across the globe and is also true for app development, among other processes.
For example, the Philippines, an archipelagic country in Southeast Asia, is well known for its vast outsourcing market. Businesses in many countries, including the USA, outsource their business processes to the Philippines. Such remittances account for around 9 percent of the country's total GDP.
However, this is just one example. Depending on the availability of services, outsourcing can be done to any company, anywhere in the world. This is especially true for IT-based outsourcing as most systems are now cloud-based and can be made shareable and accessible from anywhere in the world.
Types of outsourcing
Businesses can outsource their app development (or any other) processes in several ways. However, it is broadly classified into the following categories:
Onshore outsourcing: Also known as domestic outsourcing, it is the process of getting services from another individual or company, but within the same country.
Offshore outsourcing: As the name suggests, it is the process of outsourcing services to a company outside the country. Differences in time zones, operational laws, labor costs, and language & culture barriers are some factors worth considering when going with offshore outsourcing.
Nearshore outsourcing: Relocating work or services to people in nearby regions and countries is known as nearshore outsourcing. This may still require you to consider the differences in the costs and nature of operations.
These are the common types of outsourcing. Thanks to SaaS-based solutions, outsourcing to remote locations and faraway countries has become easier. For example, if a business wants to outsource its mobile app development projects, it can easily do so with AppMySite.
Pros of outsourcing
Outsourcing solves many challenges of traditional in-house development and entails additional benefits. Here are some of the most common advantages of outsourcing app development or any other business process or task:
Eliminates the need to start from scratch
No expenditure on R&D and infrastructural setup
Cost saving on talent and resource acquisition
Access to the latest and niche technology
Leverage trusted solutions and expertise
Availability of a large talent pool and resources
Enables fast-paced and flexible development
Allows decongestion of work for in-house staff
Enables businesses to focus on core processes
Increases overall performance and productivity
Suggested Read: The benefits of white label mobile app development for agencies
Cons of outsourcing
There are two sides to every coin. Outsourcing also has its share of demerits and challenges. Some common disadvantages and challenges of outsourcing are as follows:
No brand exclusivity and third-party interferences
Lack of authority and control over the process
Risks of data protection and confidentiality
Risks to business reputation and uniqueness
Reliance on third-party for delivery of apps
Hidden costs and financial challenges
Difference in time-zone, operational processes, etc.
As evident, outsourcing has its own advantages and disadvantages. However, the end results will depend highly upon your personalized goals and partnerships.
What is in-house development?
As the name suggests, in-house development is the business practice of developing software within one's company or organization using their own resources and talent. This is the traditional approach towards app development that is practiced by several IT-based businesses across the globe.
However, as the demand for apps is increasing, more and more businesses are being forced to take up development within their organization at some level. This requires hiring talent, conducting research, acquiring necessary software and tech resources, creating the development infrastructure, dealing with pre & post-development, and so on.
In-house development is suitable for businesses that have access to hefty budgets, talent, tech stack, and other resources. From developers, designers, and project managers, to other experts, a wide pool of talent is required to create apps on a professional level. If you do not use low-code and no-code technologies, then in-house development will require several app development frameworks and tools.
From app designing software to developer accounts on the app stores, there is a lot that goes into in-house app development. Therefore, it may not suit every agency or business, especially if app development is not their core business process.
Suggested Read: The ultimate guide to mobile app development
Pros of in-house development
In-house development ensures more control and familiarity. Here, are some notable advantages of developing apps in-house:
Complete control and authority of the development processes
Brand exclusivity and security of data and resources
In-house talent is more aligned with your business goals and vision
No differences in time zone, language, work culture, and other factors
Easier to communicate and implement changes and new ideas
Value-addition to existing talent pool, resources, and efficiency
Suggested Read: White Label vs. Custom App Development: What is best for your agency?
Cons of in-house development
It is the unending challenges of in-house app development that force businesses to outsource. Here are some of the demerits of in-house mobile app development:
Limited pool of talent and resources
Cost of hiring and training employees
High development and maintenance costs
Organizational silos, friction, and challenges
Congestion and failure to meet demands
Delays in the timely delivery of projects
Challenges of consistent expansion and scaling
Disruption in other processes and areas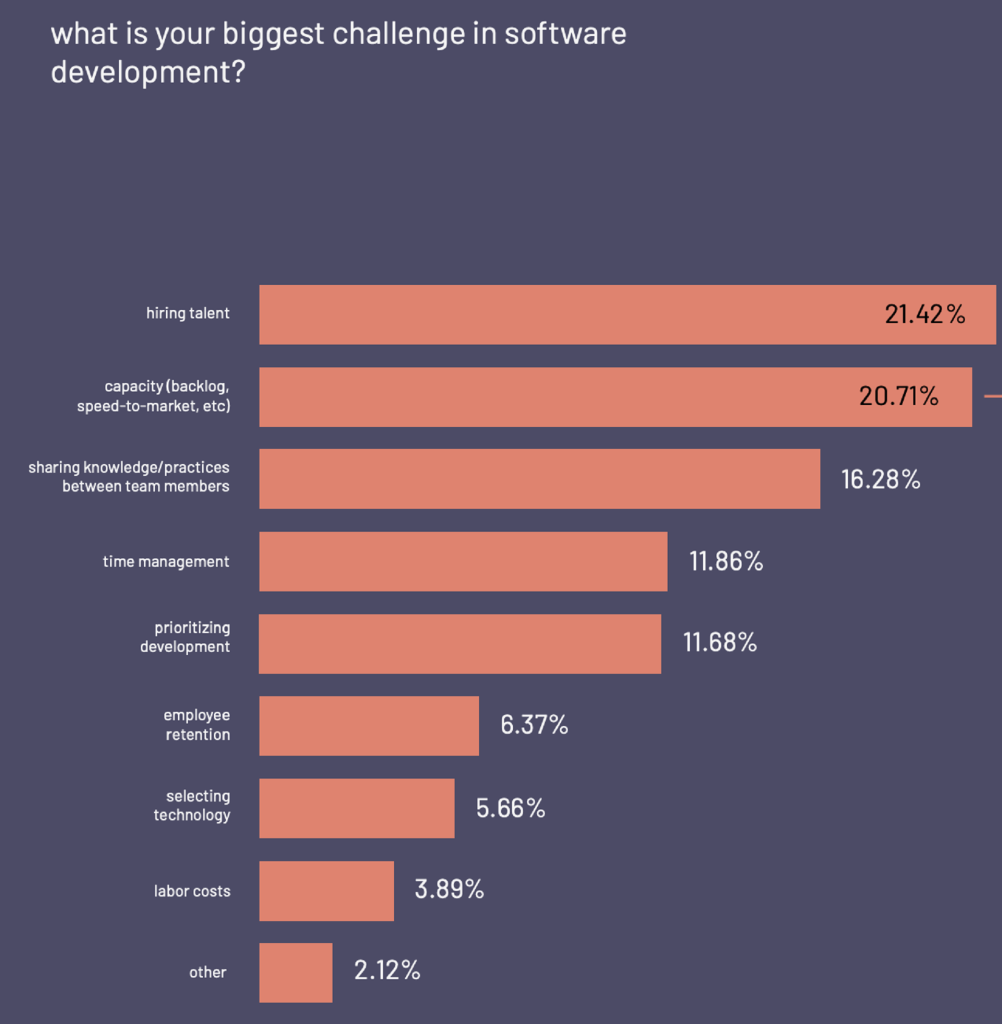 As evident, in-house app development can be quite challenging and unsettling for many businesses. If you lack the necessary talent, expertise, or budget, then it is best to go with an alternate option.
Outsourcing vs. In-house development: The verdict
While outsourcing may seem like the more lucrative option, it is not always the best one. Traditional outsourcing requires you to relinquish control and rely on third parties to live up to your customers' expectations and build your brand and reputation.
Does this mean that custom app development is the way to go? Well, not really. It is not feasible for every business to take up custom app development. So, what is the solution? The best answer to this question is to weigh the pros and cons of the available options.
For instance, while offshore outsourcing may sound challenging due to differences in time zones and linguistic barriers, it may help businesses that are looking to expand and cater to customers based in different regions across the globe.
Similarly, while in-house app development may seem like a great deal of work, using the right tools and approach towards development might give you more control and authority over the process and save you from hidden costs and branding compromises.
Some factors worth considering are the costs of development and the requirement of resources and talent. For example, outsourcing app development can cost you at least 50 US dollars per hour. If your in-house processes cost less, you can consider this option.
However, if you need a scalable infrastructure to develop highly complex applications, then outsourcing can be more beneficial. It will save you from any hidden hassles, challenges, costs, etc., that may arise in the long and extensive process of in-house development.
The bottom line is that we have presented you with all the facts and now the choice is yours to make. If you want to outsource, make sure the company you choose aligns with your goals and methodologies.
Do some research about their performance, delivery, pricing, and other related factors, and then proceed accordingly. If you are not satisfied with this option, you can always opt out of the partnership and go with in-house development.
However, if you want to make the most of both worlds, it is better to go with new-age outsourcing options like white label app development solutions. Such tools enable you to simplify and fast-track app development and achieve better results.
AppMySite: The better alternative to outsourcing
Outsourcing and traditional methods of app development are both popular among many agencies. However, sometimes both the options can become cumbersome and obsolete. So, what is the solution?
The latest technique to build apps is no-code DIY solutions. AppMySite is one of the best code-free app development solutions for creating Android apps and even developing iOS apps instantly.
Unlike outsourcing, AppMySite does not require you to give away complete control over the development process. Moreover, it does not require you to set up a development infrastructure or hire developers and a team of app development experts.
AppMySite comes with an end-to-end app development platform where you can design and build your own apps of all kinds. Else, you can subscribe to the white label agency solution offered by the platform and resell the services to your customers.
Either mobilize your staff to create apps without writing a single line of code or extend the same DIY benefits to your customers. Price the software the way you want and resell it under your own name.
Get rid of the challenges posed by IT outsourcing and development and build apps the smarter way. Build apps for all types of industries and consumer demands in record time and expedite your business processes. Grow your agency profits and revenue like never before.
Frequently Asked Questions
What is IT outsourcing?
IT outsourcing is the practice of getting third-party or external service providers to deliver IT-enabled products and services for the business. This may include outsourcing of business processes, software development, telecommunication & customer support, and many more. It enables businesses to eliminate the need to hire and maintain talent, create infrastructure, accelerate time to market, and take advantage of third-party expertise and assets.
Outsourcing or In-house development: What is better for my agency?
To pick the best app development option for your agency, you must consider several factors. How many apps do you wish to create in a given period? Do you have the required budget, infrastructure, and talent? If you do not have the means to meet the app development demands within your organization, and you are comfortable with third-party services, you can consider outsourcing. However, if you want to find a middle-ground and go for a better option then consider white-label SaaS development tools. Here, you can leverage the benefits of outsourcing without giving away control over the processes.
How is white labeling different from outsourcing?
Going with a no-code white-label solution can be a win-win for both you and your customers. It is one of the best alternatives to outsourcing as the control remains in your hand and you get the power to implement and meet your customer's demands and needs. Moreover, unlike outsourcing, you do not have to worry about third-party brand imprints as white-labeling allows you to sell/resell the products and services under your own brand name. To know more, you can also read our complete guide on white-label software.
What is the best alternative to IT outsourcing?
The best alternative to IT outsourcing is to go with low/code and no-code white label SaaS solutions. Such solutions are cloud-based and require little to no IT expertise for the accomplishment of the desired goal. For example, you can use no-code app builder tools to enable citizen development within your organization. It will enable you to empower your non-IT staff to create advanced mobile applications with ease. It is the best option for businesses and agencies that do not want to outsource their IT processes and still accomplish their tech goals.
How can AppMySite's white label solution help my business?
AppMySite's white label app builder is the best solution for businesses that do not have the expertise or means to create apps on an enterprise level. Unlike outsourcing, it does not require agencies to completely let go of the control of apps. In fact, you can either mobilize your own staff to create apps for your customers or share the white label app development platform with your customers and enable them to build their own apps without coding. The choice is completely yours. Become our profitable white label reseller partner and grow your business.