Learning Management Systems (LMS) and education technologies have become the new normal around the globe. As the strength of online learners and consumers is growing, the demand for education and eLearning apps is also increasing. In fact, education is one of the most popular categories on all premier app stores.
This is because people want the convenience and accessibility that comes with apps as it makes online learning easier and frictionless. This is the reason why most of the top online education platforms offer learning through apps.
Several learning and education apps like Udemy, Coursera, Khan Academy, etc., have become popular across the globe. Popular platforms like Google and LinkedIn have also launched their own learning and classroom apps, thereby underlining the popularity of such apps.
If you are planning on launching an app for the online learning industry, you are at the right place. Read along and find out all you need to know about developing a learning and education app like Udemy or even for translating your own unique idea into a powerful education app.
In this blog
Online education & learning industry: Facts & statistics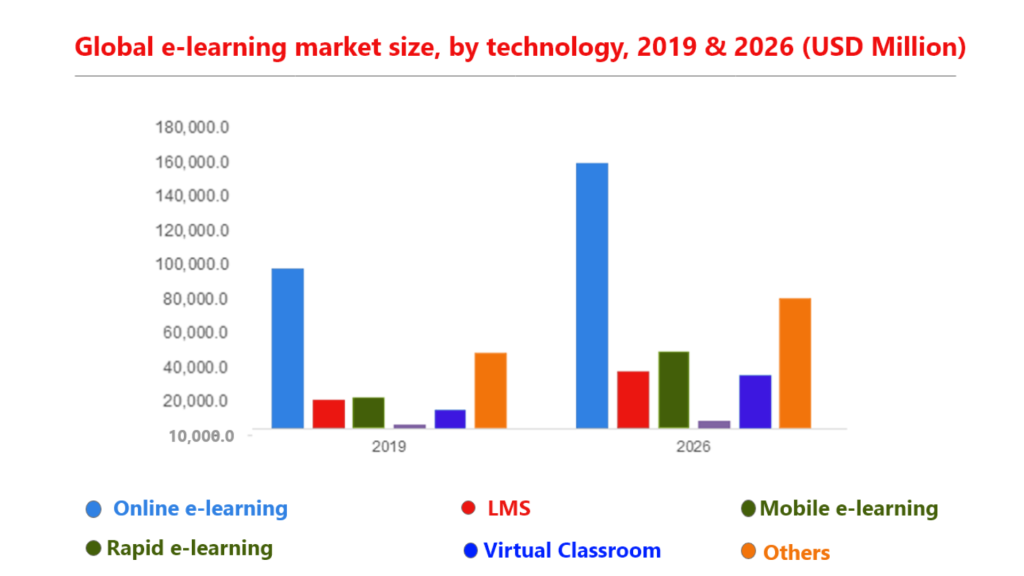 The image above highlights a forecast of the growth of different niches under the education and eLearning industry. When combined, the online learning market shows promising growth potential in the coming years. However, these are just the projections based on one report.
In this section, we will present some more facts and statistics that will give you an idea about how vast and extended the education industry is, and where it is headed in the coming years. Learn about the facts before you build your education app and make an insightful start.
These are some of the facts and statistics that underline how massive the online education and learning industry is. The pandemic led to a rise in online education resources and taught people the importance of eLearning. Consequently, the industry is projected to grow manifold in the coming years and the demand for education apps is also likely to increase.
Suggested Read: Build an app for your LearnDash website and go mobile!
Benefits of creating an education app like Udemy
Before getting into the details related to development, let us first tell you what the advantages of taking up education app development are and why it is beneficial to pursue it. Launching a learning app not only helps you become part of a roaring industry, but it also ensures other gains.
Here is why creating education and learning apps is a favorable idea:
Apps eradicate barriers
Traditional methods of learning are good enough until they are not. Such methods have limitations, and this often leads to certain barriers that could be geographical, financial, or others. A mobile app can help learners overcome many such barriers by acting as a digital bridge that fills these gaps. For instance, students can learn from an instructor sitting anyplace in the world through an app. Endless resources remain just a click away and the same can be accessed anywhere, anytime. Students can time their classes as per their preferences and learn
eLearning is the new normal
Students, parents, and educators are all looking for new and innovative ways of learning. Using advanced technology in education not only fills gaps and eliminates barriers, but it also empowers people to make the most of the opportunities. For instance, technology can also be beneficial in helping those with certain impairments as it can match the learning pace of an individual. Unlike traditional classrooms, apps can enable interactive and dynamic learning without putting much added pressure on the infrastructure and budget. With the introduction of Artificial Intelligence, Augmented Reality, Virtual Reality and other advanced technologies, education apps are likely to become more powerful in the coming time.
Suggested Read: School apps are the new normal! Here are 10 different ways of using them
MOOC platforms rely on digital connectivity
Massive Open Online Courses or MOOC have become the new way of learning and skill enhancement for many. An app that leverages all the information and knowledge available on the web can make learning easy for people. It can help people collaborate, discuss, and learn about the topics they are interested in from their own spaces. Plus, the one-click access and round the clock availability to all the resources makes learning easier and more fun.
App-based users are more loyal
Websites suffer from the "buy and bye" phenomenon. This increases the chances of the migration of the user-base of one platform towards its competitors. While education and learning websites are not meant for shopping, they can suffer the same fate. However, when installed on a user's phone, apps grab the attention of the users. Besides, apps can inspire more customer loyalty and ensure better retention rates as compared to websites.
Communication gets easier with apps
Whether it is student-teacher communication, parent-teacher communication or communication among peers, apps can ensure better connectivity. An app with a chat feature can ensure round the clock availability of teachers and instructors and get students and learners all the guidance they need. It can also eliminate any communication barriers and allow stakeholders to connect with each other in a frictionless manner.
Apps streamline business operations
Mobile apps can help educators streamline their business activities and increase their staff productivity. For instance, native education apps can leverage device features and get access to more user data points. This in turn helps businesses personalize and tailor the experience for their learners and offer them a better experience. Similarly, automation of workflows and tasks increases room for collaboration and decreases the chances of errors, flaws, and backlogs in operations. From maintaining attendance logs to collecting fees through payment gateways, apps simplify it all.
Apps enhance data-management
Data management on apps works both ways. While educators can upload endless resources for learners to access, they can also collect user-data to offer a more personalized and interactive experience. Unlike traditional classrooms, it becomes easier to track the growth of participants and each student can be treated differently depending upon their progress. They can be offered help and resources accordingly while the platform gets their attention and loyalty. Clearly, apps can ensure the best win-win partnership between educators and learners.
Key features of a successful education & learning app
What makes an education and learning app successful? Whether it is an app for employed professionals who want to upgrade their skills or an app for a classroom that enables student-teacher interaction, no matter what the niche is, the features of the app have the power to determine its success. Some must-have as well as advanced set of features of an education app are as follows:
Easy registration, sign up & login (including login via Email, Apple, Google, etc.)
Teacher and student profile management
Captivating UI and UX and easy navigation
Intuitive search & filter for finding courses and more
Interactive audio/video content support
Progress tracking and monitoring
Online payment and billing management
Social media integration
Review and rating collection
Multilingual & localization support
Loyalty & reward program support
Push notification support
In-app chat support
Ad & monetization support
App usage data analytics
These are the features that can power an education app and contribute to its success. However, the final list of features and functionalities will depend upon your app's purpose and goals. You can create user personas to understand your target base and validate your app idea to decide which features are essential for you and how your education app should look and feel.
Suggested Read: How to make an app for your course based WordPress website?
How to build a learning app like Udemy?
Now, let us get to the part that we are really here for. Continue reading and learn how you can build your own learning app like Udemy or Coursera, or even better. Here is the step-wise guide to the same:
Step 1: Start with extensive research
The more you invest in research, the more successful your endeavor will be. It will also help you in eliminating the chances of wastage of critical time and resources and propel you in the right direction. Focus on the steps listed below and conduct robust research for your app:
Know your competitors: Start with identifying what unique problem your app will address and how it will be different from what your competitors are already offering. Learn from your competitors' strengths and weaknesses and build your idea upon your learning.
Study your audience: Every brand is focusing on a customer-centric approach. Learn who your users are, what they expect, how can your app benefit them, and more. Knowing your customers will help you serve them better and fulfill their goals through your app.
Fix your app niche: Education is a vast realm, and it is not possible or reasonable for one education app to do it all. Therefore, assess the ongoing trends of the industry and fix a niche for your app. Identify the problems or topics that you will address and stick to it.
Step 2: Create app prototypes
Once you have done your research, you can go ahead and start give a shape to your app idea. For this, you can start with creating mockups of your app. Build wireframes or create prototypes of your app to pencil in your ideas. You can use the mockups to illustrate how your app will look and feel and share the same with your stakeholders.
Creating prototypes will also help you get an estimate of the exact workflow and architecture of the app. Besides, it can help you identify any flaws and shortcomings in the plan and nip it in the bud. The extent of the elaboration will depend upon your app goals, but creating a blueprint of your app can help you and your team head on the right path.
Step 3: Develop your app
Once you have validated your idea, you can go ahead and start developing your app idea. Design the UI/UX and work on the features and functionalities to shape the education app of your dreams. But before you do that, you will need to finalize your development approach as that has the power to make all the difference. You can choose from the following options:
AppMySite's no-code education app builder
No-code app builders have democratized app development. They have enabled citizen developers as well as professionals to create premium apps without writing any code. AppMySite takes the no-code experience a notch higher and makes it super easy, quick, and affordable.
AppMySite's no-code education app creator makes it easy to build native Android and iOS apps. Anyone can create premium and feature apps within minutes. If you want to go from idea to app fast and avoid the complexities and challenges of custom app development, then AppMySite is the way to go.
Low code development platforms
If you have some prior experience in coding and you are ready to learn a new tool or language, you can also create your app with a low code app builder. While this will take up more resources and time than no-code app development, it is still a good alternative to custom app development.
Look for a low code app development platform that does not template your ideas and aligns with your goals. Make sure to look for upfront pricing and a fixed time line as some low code development platforms can leave you hanging for months. Discuss your goals in advance and ensure they are ready to deliver the same.
Custom app development agencies or tools
This is one of the most well-known methods of app development. Even though there are no-code and low-code alternatives available out there, some people still prefer custom app development. If you are one of them, you can code your own app using the best frameworks and tools. Else, if you are not aware of programming, you can hire in-house professionals or outsource development to agencies and freelancers.
Remember, you will still have to supervise the project and collaborate with the teams to ensure that your ideas are being acknowledged and implemented. Go with platforms that are transparent about pricing and time line and are committed to offering help with app maintenance and updates as it will be essential for the long run.
That was all about developing an education app. If you need further help, you can also refer to our complete guide on mobile app development. It has all the information you need to create premium and feature rich apps. Here, you can also learn about the trends of development, types of development, and more.
In conclusion
Still reading? Great! Looks like you are really committed to turning your education app idea into a reality and we are here to help you with it. Whether your app aligns with the ones already leading the market (like Udemy, Coursera, Khan Academy, etc.) or you have a unique idea of your own, this is the time to build and launch it.
So, go ahead and create your own education and learning app. With AppMySite's education app creator, it will only take a few minutes. It is easy and affordable too. Once your app is live, you can optimize it for the stores and start running marketing and advertisement campaigns to promote it.
You can also explore our platform and checkout our blogs on how to create an app like Uber or Amazon if you like. We have plenty of resources on mobile app development, maintenance, optimization, and marketing that you can refer to. So, get onboard with us and app your way to success now!
Frequently Asked Questions
What are the top education and eLearning apps?
There are several education, schooling, classroom, and online learning apps available for users. The most popular names include Udemy – the app for endless courses, Duolingo – the language learning app, Khan Academy – the free education app, edX – the app for top university courses, Coursera – the course and certification app, LinkedIn Learning – the skill enhancement app, Google Classroom – the app for teachers and students, and more.
Who are the top players of the online learning industry?
The online learning industry is worth billions of dollars. The top vendors and players of the online education industry include Alphabet Inc, Age of Learning Inc, Blackboard Inc, Khan Academy Inc, edX LLC, Coursera Inc, Udemy Inc, Duolingo Inc, Apollo Education Group Inc, FutureLearn Limited, among others. The market is constantly expanding with new players entering the realm everyday.
How much does it cost to build an app like Udemy or Coursera?
The cost of creating an educational app can vary depending on the type of features and functionalities you are aiming for. It may also depend on your choice of development framework or software. If you go with ucstom education app development, even an MVP (Minimum Viable Product) can cost you around USD 50,000. However, no-code app builders like AppMySite can make the process more affordable and cost-effective. You can explore our pricing page to know more.
How long does it take to build an LMS app?
It can take anywhere between two to six months to build a learning app if you go with traditional methods of app development. Complex features and functionalities and other factors can add to the hours and eventually increase the billables and the time to market. Alternatively, you can go with AppMySite's instant app development solution that makes the process quicker and easier.
How do I build an eLearning app like Udemy without coding?
You can build a premium education and learning app with AppMySite. Here, you can create your own feature-loaded learning apps for Android and iOS without writing a single line of code. AppMySite enables you to bring any app idea to life with its intuitive app builder. It only takes a few minutes to go from website to app and everything from development to deployment can be managed with ease.