"What's in a name!", when Shakespeare wrote that in Romeo and Juliet, the internet was not in existence.
A few decades ago, no one would have fathomed that with the advent of the internet, particularly the techniques of SEO (System Engine Optimization) and ASO (App Store Optimization), the significance of choosing the right name for the business would become so important. Today, names play a critical role in the shaping of brand image and identity.
The same goes for naming your mobile app. Not only do the business owners need to find the most perfect and suitable name, but also reserve it. In fact, it is one of the preliminary mileposts for a business willing to make a mark in the mobile-centric industry.
Let's say you are creating an app for your WordPress website. In this case, you can either create a WordPress mobile app first and then reserve an app name or vice versa. However, most businesses prefer reserving an app name beforehand. This secures the name for when you would launch your app in the future and prevents other businesses from using it.
However, as you proceed to reserve a name for your Android and iOS apps, you need to follow some protocols and keep a few things in mind. So, stay with us till the end and learn the best tips and practices for naming your app. Reserve an app name of your choice and be the next big thing in your industry niche.
Suggested Read: Confused about choosing an app builder? Here are the features you should look for
In this blog
The significance of choosing the perfect app name
Some businesses name their app based on their existing brand name. If you want to follow suit, you may not have to worry about picking the best name for your app.
However, if you want your app name to be different from your business name, or you are planning to launch a standalone app, then looking for a suitable name becomes highly important.
Here are some brief but concise insights on the significance of picking the right app name:
#1: Build and uphold the brand identity
The name is not just an arbitrary label anymore. It carries the identity of the brand and determines the brand's authority and recognition. Therefore, the name you choose must ring a bell in the mind of the consumers every time they hear or read it. Hence, a name that is easy to remember ultimately becomes a brand that is easy to recall.
#2: Highlight the app's purpose
The name not only reflects the identity of the brand, but also highlights the aim and objective of the app. What the brand name means or represents, should also influence the choice of the name. In fact, it can also be related to the industry niche or category that the app corresponds to. For instance, many gaming apps have the term "game" or its synonyms included in the name in some way or the other.
#3: Empower your ASO initiatives
The name of your mobile app plays a very significant role in leveraging the ASO potential of your website. It helps with App Store Optimization initiatives and boosts the app ranking and visibility. In fact, if your app name has a keyword in it partially or completely, it can work wonders. However, you must also ensure that it also corresponds to the domain name and website name of your brand.
Suggested Read: A complete guide to understanding the concept of App Store Optimization
Characteristics of a good app name
Now that we know why a suitable name is important for your mobile app, let us discover the characteristics of a good app name. Here are some features and attributes of a good app name:
Creative and outstanding
There are around 3.5 million apps on the Google Play Store and around 1.6 million apps on the Apple App Store. Several of these apps can be from your industry and niche. Therefore, in order to stand out amidst the competition, you must go with an app name that is creative and catchy.
Easy to remember and spell
While it is important to stand out and be creative, having an app name that is a tongue twister can backfire. It can do more harm to your branding than benefit. So, go with a name that is short and easy for your audience to spell, understand, and remember.
Descriptive and purposeful
The app name should be distinct and relevant. However, it should also carry a message and describe the purpose of its existence. While this can be achieved with the right branding, having an app name that does it for you will make your task easier.
Aligned with the ongoing trends
Look out for what's trending on the app stores and study how contemporary businesses are naming their apps. Do not follow any trend blindly as what is working for others may not work for you. However, you can always take ideas and get inspiration from others.
ASO and search friendly
While it is not necessary or advisable to stuff keywords in the name or app title, you can still make your name search friendly. If your app will be available in multiple countries, see how it translates into the languages of those regions. Follow the guidelines of the app stores and pick a name accordingly.
Mistakes to avoid when choosing an app name
Not optimizing for keywords, not following ASO practices, and picking very lengthy words are some common mistakes that people make when choosing an app name for their Android and iOS apps.
Read about some more and avoid them to prevent any setbacks or failure:
Using trademarked names
While some app marketplaces allow apps of the same names, it is not very wise to do so. Avoid using popular names or trademarked names for your apps as it can get you into legal issues and also affect your uniqueness. Also, avoid names that sound very similar to other brands if you do not want to be considered their copy.
Not maintaining consistency
Pick a name that is available for domain registration and for social media handles as websites and social media accounts are important assets. Secure these assets and then check for the availability of the app name. Moreover, if you are an existing business, stick to your original brand name and identity and keep it consistent across platforms.
Not considering character limit
The character limit for app name/title on both Apple App Store and Google Play Store is 30 characters. Choose a name of optimum length and stick to one word or a few phrases only. You can also do some wordplay and go with a portmanteau. Avoid using controversial symbols and special characters if not necessary.
Being too local or basic
Let's assume you named your app taking your local audience, language, and market into consideration. But what if someday you decide to explore new markets and other regions? Avoid this issue by picking a name that is not very localized or basic. However, if you feel that the name does justice to your brand, you can go with it anyway.
Not testing the app name
Test the app name and get feedback from a sample audience before finalizing. Test different types of names, phrases, and ideas. You can give several options to the participants and pick the one that receives the maximum votes. Pick a name that the audiences easily remember and associate your brand with.
Tips to find the perfect app name
Isn't it amazing that names like Google, Skype, and Netflix have become action words today? "Google your queries." "Skype me when you reach home." "I'll Netflix and relax." All such phrases that we say or hear are a result of a powerful name backed by equally powerful branding.
Clearly, names play an instrumental role in brand-building and popularization. However, app nomenclature requires smart decision-making, research, planning, and some guidance. You can follow the tips and strategies listed below and ensure the most perfect name for your app:
#1: Start with research and brainstorming
The first step to finding the best name is to carry out immense research. Find out what strategies your competitors and heavyweights of the industry have used to name their apps.
You can also try to assess the preferences of your target audience and see what type of names do people like the most. Find out whether they like long names, short names, portmanteaus, or any other kind of alphanumeric combos. See what goes with your brand and finalize accordingly.
Suggested Read: Developing app ideas: How to ensure an app idea is viable?
#2: Align the idea with the industry specs
Barring a few exceptional and peculiar examples, most app names align with the industry they are specified for. Besides adhering to your brand, website, and domain name, the name should also help the visitors know about the purpose and category of the app.
For example, the navigation app by Google is simply called Google Maps, thereby unveiling the very gist of the app's purpose. However, you can also tweak and spice it up a little and create your own thunder and buzz.
#3: Highlight the app features
The app name may also highlight the app's core features or may sound like a feature itself. It can speak about what the app does or what action it can help the consumers commit. For example: Facebook's "Messenger" App is all about sending messages, chatting, and communicating with people. Similarly, Google's "Meet" is all about meeting and interacting with people online.
This can be further capitalized by enhancing and highlighting that action in the app. For instance, when people say "Google it" or "WhatsApp it" they are actually talking about the functionalities of Google and WhatsApp. As discussed above, the names of these apps are so catchy that they have become actual action words and phrases over time.
#4: Focus on discoverability and ease
As you proceed to find the perfect app name, you must also focus on its discoverability and ease of use. The name should not create a cognitive burden on the minds of the users. Find a simple, relatable, and memorable name as you do not need to organize a tongue-twister challenge.
In fact, speaking at large, you can choose any name for your app as long as the name is suitable and easy to spell, type, pronounce and remember. So, try not to use special characters and symbols, and keep the name as short and powerful as you can.
#5: Get feedback and finalize
Although you are your own best judge, it never hurts to take a second or third opinion at times. In fact, you can run your preliminary app name with others just like you conduct A/B testing of the app's features and functionalities.
Cut down the app name suggestion list to two or three choicest names and put it in the public domain. Seek detailed feedback on the suggested names and then finalize one that wins in every category. You will finally have an app name that will be shouldering the fate and fortune of your business.
Suggested Read: A few important parameters to consider when naming your mobile app
Reserving an app name for Android (Google Play Store)
Note: The app name on Google Play Store is known as "App title". Unlike Apple, Google does not allow reserving of app names for future uses. However, you can name your app as you submit it to the store for publishing.
Getting an app name of your choice is easier when it comes to Google Play Store. You get more options and can even take names that have already been taken by others. As Android allows multiple apps of the same name, one need not reserve the name, but just use it anyway.
However, we suggest that you avoid cloning or plagiarism and find a name unique to your brand. Remember, Google Play Store allows a name of up to 30 characters only. So, try to keep the app name short in order to prevent the name from getting truncated when visitors view it on the store.
Moreover, you will have to reserve a domain name for your app first and enter the name or link of the social media pages linked with your app including Facebook, Twitter, etc. So, as you pick a name for your app, keep these factors in mind as well. Proceed to get your identity and details verified and submit the app name.
Ideally, if the name of your app is "My Business", you can align and fix the other things as directed below:
Domain Name: mybusiness.com
Facebook Page Name: facebook.com/mybusiness
The same template applies to other social media platforms as well. You can also refer to Google Play Console's documentation to read about their guidelines related to metadata optimization.
Reserving an app name for iOS (Apple App Store)
While building an app has become easy with iOS app creators​, reserving a name for an iOS app can be slightly tricky as compared to Android apps. In fact, Apple has strict guidelines about app name cloning and plagiarism.
It only allows and allocates unique app names and thus, you should begin with searching the app store and ensuring that the name you have chosen has not already been taken. If so, look for relative and derivative combos or find a new name altogether.
If no app with an exact similar name exists on the Apple App Store, you can proceed to reserve it for yourself. (Now this is exactly why reserving the app name is important). Apple App Store also allows a name of up to 30 characters only and you must utilize the space wisely.
You can follow the steps listed below and reserve a name for your iOS app.
Log into your Apple account at itunesconnect.apple.com
Go to "My Apps" and then add your new app
Follow the guidelines and add the information accordingly
Click on "Create" and finish reserving the app name
Suggested Read: iOS 14 update is here! Know how you can optimize your mobile app strategy for growth
Note: You should be enrolled in the Apple Developer Program to submit apps on the Apple App Store. As Apple Allows reserving of app names for future use, you will only need an app bundle to complete the application process. However, a fully developed app is not necessary. Use the app name before the expiry period to avoid lapse.
The image below gives an anatomy of app listings on the Google Play Store and Apple App Store. You can refer to it to see how the apps and their names appear on the two distinct marketplaces.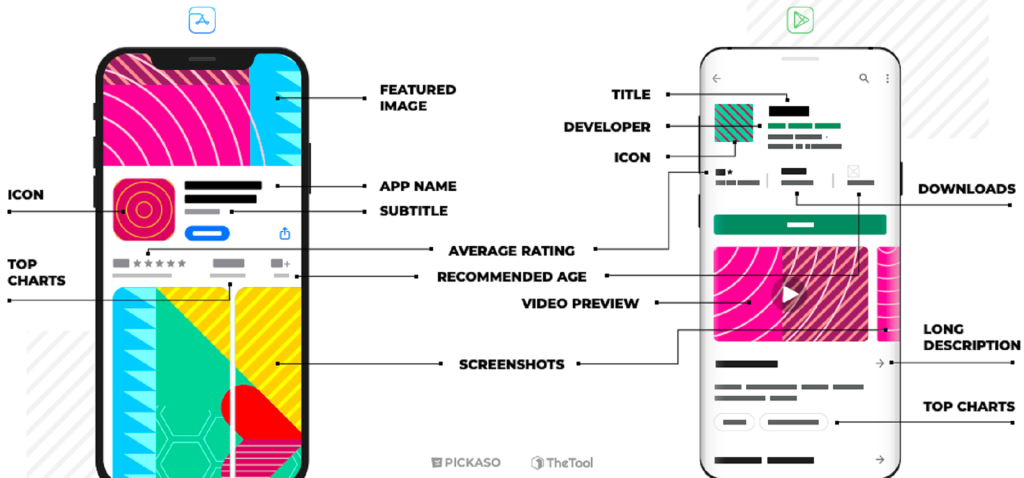 Wrapping up!
That was all from our end today! However, we keep updating this space with amazing tips and information on a regular basis. So, you can stay tuned and discover all our other blogs to gather more knowledge about the mobile app development and marketing industry.
However, if you are still looking for app makers online, then look no further. Sign up for AppMySite's free Android app maker and build a brand-new app on an affordable budget. It only takes a few minutes.
Create premium native Android and iOS mobile apps and test them for free. Proceed to upgrade and publish when satisfied and scale your business to new heights. Get going and grab the opportunity now!
Frequently asked questions
How do I find a unique app name?
The best way to find a unique app name is to conduct extensive research and use your findings and your instinct to finalize a name. Go through the tips listed in the blog above and create a unique name for your app. You can also take the help of online app name generator tools like Business Name Generator, Namelix, Wix, and more. Enter keywords related to your industry, niche, or name preferences, and generate a name for your app.
What is an App Title in the Play Store?
App title is the same as app name. While Apple App Store labels it as App Name, Google Play Store labels it as App Title. The two terms are often used interchangeably and have the same connotation. The app name or title is an important asset and the most important metadata element. It is essential for listing your app on the app stores.
What is the difference between App Title and Display Name?
The App Title or App Name is an app's official name that appears on the app stores. Whereas the display name is what the end users can view under the app's icon when they download the app on their phones. However, the app name can be similar to the display name.
Can two app names be the same?
While having an app name similar to other apps may not classify as a direct violation, it is not recommended. A trademark or protected name can cause legal issues. Similarly, a name emulating other apps can compromise your app's uniqueness. A misleading name can also cost you your brand reputation and even your app store presence, rankings, and visibility. Therefore, pick a unique and catchy name and avoid any conflicts.
Can I reserve an app name so that nobody else uses it?
Apple lets you reserve an app name. However, you cannot pre-book a name on Google Play Store. Therefore, the best tactic here is to reserve domain names and social media account names in line with your app name. You can also apply for a trademark. Finalize these assets besides your app name and prevent other businesses from using your app name as a brand asset.
What are some good app name examples?
While there is no definite yardstick to label a name as good, bad, or average, we can say that a name that appeals to the audience, conveys the brand's purpose, and becomes popular among the users is a good app name. For example, Foodvisor is a nutrition and diet advice app, Duolingo helps people learn languages, Snapchat enables users to communicate using snaps, Calm helps users meditate and relax, and so on. There are numerous examples to look out for.